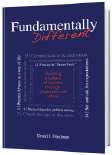 Friedman's book is an essential roadmap for a high -performance culture that benefits management, employee relationships and successful B2B development.
(PRWEB) November 02, 2011
Fundamentally Different is a breakthrough, strategically powerful business leadership book that redefines organizational culture and behavior, the power it holds for boosting employee productivity and creating a high-performance organization. Author David Friedman is the former president of RSI, an agency that won more than a dozen awards for leadership, workplace culture, quality, growth, business success and many awards for best place to work. Friedman reveals the most important strategies he used during his 27 years in business to create one of America's most outstanding companies.
It's not your traditional "how to" business book. It's a hard-hitting, fast-paced and logical approach to leadership that shows how to create an environment for extraordinary success in corporate management, employee development and customer satisfaction. Some of its topics are quite edgy such as:

Why diversity of values can cripple a company
How "speaking straight", while uncomfortable, can change the course of action
How ego creates dysfunction and what to do about it
Why having an "open mind" is often counter productive
Friedman's book is an essential roadmap for a high-performance culture that benefits management, employee relationships and successful B 2 B development. "Simply put," notes Friedman, "organizational culture has more to do with success than any other single factor." This book is a business strategy roadmap.
But Fundamentally Different is more than a business leadership book. In fact, Friedman's Fundamentals can have a tremendous impact on daily living. "This book provides an excellent guide for living a life, not just running a business," writes one recent reviewer. Others call the book "a fun and thought-provoking read", "inspiring and motivating", and "hands-on, practical, and insightful."
Minoti Rajput, President of Secure Planning Strategies says, "David is very clear in his concepts and theories. He has provided tools that can easily be implemented both in a business setting as well as in personal life."
Friedman invites his readers to expand their thinking by loading the book with stories that inspire the reader to see situations in entirely new ways; and as they do so, they gain new choices to dramatically increase their personal power and effectiveness in life and business. Fundamentally Different presents value for organizational success from the first page to the last. David Friedman is currently available for public speaking and business consultation. Contact him at http://www.djfriedman.com.
Bio
Author David Friedman is a business leader and the former President of RSI, an award-winning employee benefits brokerage and consulting firm. He is a frequent guest speaker and seminar leader on organizational culture, leadership, and values. Skilled at taking complex business ideas and making them easy to understand and implement, Friedman is a highly recognized and sought-after business consultant.
###