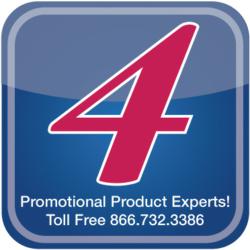 Essex, CT (PRWEB) January 09, 2012
January is National Get Organized month. What better time to put all those new Christmas presents in their places, clean out closets, desks and the junk drawer. The promotional product experts at 4AllPromos have some easy tips and helpful products to helps businesses and customers get organized in 2012.
January is the perfect time to promote a new business, event or campaign with custom imprinted products. It's even better to select a product that everyone can used to help get organized in the New Year. Many people's New Year's resolutions involve getting rid of clutter and organizing their home and workplace. 4AllPromos, a promotional products company based in Essex, Ct has everything from tote bags to notebooks to desk accessories to help get even the messiest home or office in tip-top shape.
The most important item to have when getting organized is a calendar. Keep a master calendar to keep track of appointments, birthdays, holidays and especially vacation time. 4AllPromos has 9 different kinds of calendars. The Press & Stick calendar makes a great giveaway and reminder to customers. Desk calendars help keep office meetings and appointments on track. Showcase your facility or products with a commercial calendar or customize a calendar with eye-catching photography. Help keep the busy salesman or mom on track with a small and stylish calendar book and planner.
January is also the perfect time to go through old files and documents on the office computer. Organize and delete files and backup the hard drive. Flash drives are a great organizational tool. These tiny thumb sized drives hardly take up any space and can hold tons of documents, photos and videos.
Notebooks and portfolios can help keep employees on track in meetings or on the road with clients. Give customers or clients custom imprinted notebooks and portfolios for taking notes and keeping invoices, proposals and sales figures all in the same spot. The personalized notebooks help employees to look professional and organized. 4AllPromos has a large variety of custom imprinted notebooks, scratch pads, leather portfolios and laptop bags to help keep employees and business running smoothly.
The desk is often the messiest area of an office. Organize clutter with desk accessories from 4AllPromos. Promotional desk items make great gifts to clients and customers. Sticky notes, memo boards, pen holders, clips and other useful office tools can all be custom imprinted with any message for any business, event or special occasion.
The best way to get organized is to make a list and start small. Even small improvements to a workspace can help to streamline business. Share organizing skills and products with clients and customers. To find out what office products work for your business, school, nonprofit or event, call one a 4AllPromos product specialist toll-free at 1-866-732-3386.
4AllPromos is one of the nation's largest marketers of promotional and custom imprinted products helping businesses and organizations to brand themselves with unique and useful products. Visit 4AllPromos.com to view a large selection of custom imprinted items. Find 4AllPromos on Facebook and Twitter to receive special offers and discounts.
# # #