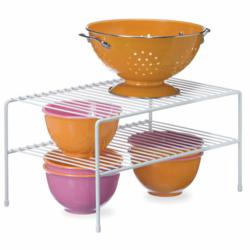 This season, amplify space throughout the home with five of the most popular space savers.
Cincinnati, OH (PRWEB) July 25, 2012
Fall signals the beginning of a busy back to school season and more family time indoors. This season, amplify storage space throughout the home with five of the most popular space savers from Organized Living.
Creative Closets
Switching closets from light spring wardrobes to bulky fall wardrobes is a cinch with the right storage system. freedomRail storage systems add extra space where it's needed most. Whether it's bundles of dresses or loads of shoes, freedomRail offers designs tailored to any storage need. Designs start at $200 and are 25% off in September.
Double Duty Doors
Have a door? Put it to good use! Maximize every inch of space in master closets, pantries, laundry and linen spaces, mudrooms and offices with freedomRail Over the Door Organizers (options start at $80 and are 25% off in September). Hardware installs quickly without any tools and components customize easily to fit multiple storage needs.
Spacious Pantries
Organize and maximize space in the kitchen with wire cabinet organizers. They're an affordable way to instantly double vertical space. Use slotted organizers in lower cabinets to store plates and baking sheets. Add dinnerware organizers to upper cabinets. Use beverage can dispensers to store soda cans and kitchen wrap organizers for aluminum foil and parchment papers. (SCHULTE kitchen solutions $3.69 - $27.79).
Divine Drawers
Drawer organizers solve many of life's storage dilemmas and are the perfect way to keep desk surfaces clear from clutter. Linus Drawer Organizers ($1.99 - $6.99) are modular and are up for any storage challenge. Available in six sizes, customize to fit any drawer.
Likable Laundry
Laundry's not always fun, but a lot easier with ample storage. Save laundry space in laundry rooms with a Laundry Station with Hamper ($118 ). This compact all-in-one laundry station features a laundry hamper, surface space for folding and shelf storage for clean folded laundry.
Visit OrganizedLiving.com to shop now for great selection on everyday home storage and organization needs. Plus, save 25% on all freedomRail closet and garage storage in September.
About Organized Living
Organized Living helps people organize their lives through exceptional products and services. From the closet to the kitchen to the garage, Organized Living offers high-quality, innovative storage and organization products that make everyday life easier. http://www.OrganizedLiving.com.