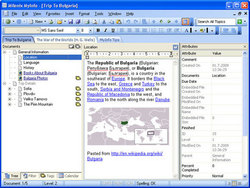 MyInfo's clean, intuitive interface gives you immediate access to crucial files and information.
(PRWEB) April 6, 2010
Milenix Software has released Milenix MyInfo 5, a powerful Windows personal information manager (PIM) that provides a complete solution for collecting, organizing, editing, storing, and retrieving personal information. Outstanding features include a unique multi-column tree interface, a full-featured text editor with styles, tables, images, and file embedding, and integration with Microsoft Word, Excel, and Adobe Acrobat Reader.
MyInfo was designed to help busy people eliminate clutter, reduce stress, and get things done. By organizing all of your information as MyInfo topics, you'll have instant access to all of your critical data. Use MyInfo to create your personal reference library, to organize your projects, or to take control of your business and personal documents. In addition to storing and retrieving text documents, the program can archive files from other applications. Simply drag and drop text, files, images, and web screens to create new documents on the fly.
MyInfo's clean, intuitive interface gives you immediate access to crucial files and information. You can open and work with multiple files simultaneously. MyInfo has a powerful search system that lets you build complex queries. It's easy to organize topics for efficient storage and retrieval. Text styles let you create a professional, consistent look and feel to all of your documents. The built-in web browser lets you surf your collection of web resources, without having to run an external web program.
It's easy to learn to use MyInfo. The Welcome Tour gets you started. The MyInfo Tutorial explains all of the program's main features. And there are Tips-on-the-Go screens to guide you at every step along the way. MyInfo automatically backs up your information, ensuring that it will be there when you need it.
New features in version 5 include the ability to view embedded files directly in the application, additional document formatting options, the ability to link to specific paragraphs in the documents, improved web site export, and WYSIWYG printing.
Whether you're a business person who needs to create information archives and catalogs for all of your electronic documents, a student of David Allen's Getting Things Done methodology who wants to organize your reference-information in a neat filing system, or an educator who needs simple outlining software and a way to keep track of classroom, and research material, MyInfo has the tools that you need.
MyInfo 5 runs under Windows 2000/XP/2003/Vista/7 (both 32- and 64-bit versions) and costs $49.95 (Standard edition) to $89.95 (Professional edition). Free evaluation version of MyInfo is available at http://www.milenix.com/
About Milenix Software
Milenix Software Ltd. is provider of personal information management and document management software for the PC market.
# # #