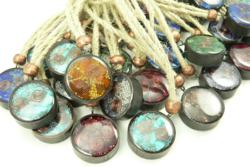 I designed this necklace exclusively for Earth Day because it is a beautiful example of how we can be creative with recycled materials.
Denver, CO (PRWEB) April 16, 2013
Colorado-based jewelry line LKS Originals (http://www.orgoneenergyjewelry.com) will have pieces from its Orgone jewelry line, Orgone Energy™ Jewelry, included in a collaborative swag bag of "green" gifts being prepared by The Artisan Group for some of Hollywood's eco-conscious celebrities. The environmentally friendly jewelry, in the form of unisex pendant necklaces, is the perfect fit for these specialty gift bags, which will be delivered in time for Earth Day on April 22 to Hayden Panettiere, Rachel McAdams, Edward Norton, Adrian Grenier, Leonardo DiCaprio, Julia Louis-Dreyfus, and Emily VanCamp, among many others.
For the Earth Day celebrity gift bags, Lisa Smith, owner/designer, LKS Originals, handcrafted 30 necklaces using a "magic mix" of orgone materials (natural rough gemstones, crystals, metal bits, recycled copper wire and resin) assembled inside a handmade bezel of recycled copper pipe. The pendant hangs on organic natural hemp cord with adjustable slipknots, and is accented with a vintage recycled copper African trade bead. The necklace is made almost exclusively with recycled, reclaimed, organic and natural materials.
"I designed this piece of orgone jewelry exclusively for Earth Day because it is a beautiful example of how we can be creative with recycled materials," noted Smith. "Plus, Orgone Energy™ Jewelry is meant to be gifted."
The rustic and casual style necklace is part of the company's Orgone Energy Collection. The necklaces, earrings and bracelets in this Collection all contain Orgonite elements. Many believe this mix of materials clears negative energy, making it popular with those who wish to enhance their physical, emotional and spiritual health. It is a tradition among those who create Orgonite to give it to others so the recipients can benefit from the material's positive effects.
In addition to the 2013 Earth Day Gift Bag, LKS Originals has participated in GBK's Luxury Gift Lounge for the 2012 Primetime Emmy Awards and the official gift lounge for the 2012 CMA Awards and has gifted Khloe Kardashian, Tyra Banks, Nia Peeples and Amy Poehler. Most recently, Nia Peoples, as character Pam Fields, wore a Nacozari turquoise necklace and earrings set on Episode 3.17 of the popular ABC Family television show, "Pretty Little Liars." The episode aired January 29, 2013.
Smith creates her LKS Originals jewelry designs out of her studio in the mountains of Colorado, where nature, her stash of gemstones and current fashion trends inspire her. She is also known for her work with polymer clay and enjoys creating mosaics. Smith is also a member of The Artisan Group, an exclusive group of artisans who collaborate to provide handcrafted work at elite Hollywood events.
To learn more about LKS Originals and its Orgone Energy Jewelry Collection, visit the company's website at orgoneenergyjewelry.com or LKSOriginals.com. Stay up to date on new designs, shows and more by following LKS Originals on Facebook (LKSOriginals) and Twitter (@lksweelee). For press inquiries about The Artisan Group, visit theartisangroup.org.
About LKS Originals
Lisa Smith of Thorton, Colorado is the owner of LKS Originals (http://www.LKSOriginals.com). Lisa is a custom jewelry artisan who specializes in vibrant, bold, energetic gemstone and sterling silver jewelry and unique Orgone Energy Jewelry.
About The Artisan Group
The Artisan Group (http://www.theartisangroup.org) is an elite art promotions group representing talented small business artisans at the best celebrity gift lounges. The organization provides a collective sampling of handcrafted products to celebrities and members of the press at top luxury gift lounges such as those leading up to The Academy Awards, The Golden Globes, The MTV Movie Awards and The Primetime Emmys. Membership in The Artisan Group is juried and by invitation-only. The Artisan Group also offers its members guidance in the areas of sales, marketing, social media and public relations.