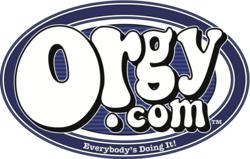 Orgy has always been a dirty word, not anymore...
Salt Lake City, Utah (PRWEB) September 19, 2011
Former Mormon missionary turned entrepreneur launches Orgy.com. This revolutionary website is designed to permanently change the way people think about group sex and swinging. Site visitors can use free tools to safely and responsibly research safe sex, find STI testing resources in their area, read informative blogs, participate in discussion forums, create a personal profile, connect with other members and host their own events. Orgy.com is dedicated to providing a positive and welcoming environment for people to express themselves and connect with others who share their interests.
Founded by Utah native and former Mormon missionary Kyle Foote, Orgy.com provides free tools and an accepting environment for people to explore their interest in group sex and swinging. "Orgy has always been a dirty word, but not anymore," says Foote. "The point of Orgy.com is to reclaim the word and demystify it. It provides people who are engaging in group sex and swinging with a safe and accepting forum to connect with those who share similar interests." Mr. Foote firmly believes that those involved in these activities put their health and safety at risk when they don't have accepting environments to find information and connect with other likeminded people. This website and it's resources will dramatically increase the public's understanding of these normally sensitive issues. Orgy.com will also serve as an alternative outlet to risky behavior.
Safety is Foote's main goal. "I want to provide a place for people who are interested in orgies, swinging, and other multi-party sex activities where they don't have to feel dirty or ashamed. Instead, they can visit Orgy.com and meet people with the same interests, while reducing their exposure to risk."
The site, which caters to straight, gay, bi-sexual, lesbian and transgender users around the world, provides a free service designed to connect people to those with the same interest. It goes beyond most adult sites, and serves as a resource of those seeking to connect with others in a responsible way. Orgy.com provides free daily blogs, comprehensive safe-sex resources, discussion forums, member profiles and event planning tools. "People need a place to feel good about themselves and explore their interests," says Foote. "Orgy.com is a safe environment for people to find others who accept them for who they are."
###