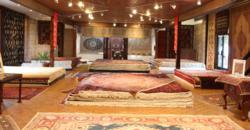 Just act fast because the best pieces won't last long
Mill Valley, CA (PRWEB) November 17, 2011
Nearly two decades after Max Safavi and Masoud Mossabeh took over Marin Oriental Rug House, they are moving to a new location. Trade sanctions against Iranian goods, coupled with a global shortage of quality rugs, have made it impossible for them to refurbish their inventory of fine handmade rugs the way they had done it in the past. The store will reluctantly be forced to downsize and move to a smaller location to maintain the same level of service their customers have grown to expect.
To get everything to fit in the new location, Marin Oriental Rug House must reduce a portion of their existing inventory to be suitable for the smaller location. This means everything is up for grabs at prices never before seen. This event is for a limited time only and will likely be a once in a lifetime opportunity!
"Whether you are gearing up for a whole new decorating project ahead of the holidays or are looking for that last piece to finish the job, whether you are on a budget but are not willing to compromise in quality or have always wanted an heirloom to enjoy and brag about for years, this is your chance and this is the time. Just act fast because the best pieces won't last long," says Max Safavi, owner of Marin Oriental Rug House.
For more information Marin Oriental Rug House, call (415) 322-3432 or (415) 389-8400, or visit them online at http://www.therughouse.com. Marin Oriental Rug House is located at 256 Shoreline Highway, Mill Valley, CA 94941.
About Marin Oriental Rug House
Marin Oriental Rug House is a top-ranking collector and distributor of Marin Oriental rugs and unique area rugs. Located in Marin, they offer museum-level rug cleaning and 100% customer satisfaction each and every time. This San Francisco hub of Oriental rugs offers trade-ins, delivery, and placement along with on-site and in-store decorating consultations. They can also offer Oriental rug cleaning in San Francisco and throughout Marin County.
# # #