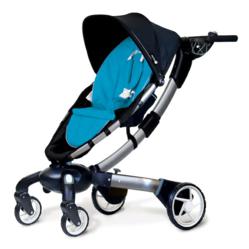 There's never been another stroller in this contest, and with all the Origami offers and its tech appeal, this audience won't forget it in a hurry.
Pittsburgh, PA (PRWEB) January 05, 2012
4moms' power-folding stroller, the Origami, is one of ten finalists for the Last Gadget Standing award bestowed once a year at the Consumer Electronics Showcase (CES), world's largest consumer technology tradeshow. From 60 entries that included products from PlayStation, Barnes and Noble, and Kodak, Last Gadget Standing's panel of expert judges chose the Origami as one of ten products to be presented live to the judges and audience at CES. The Origami is the first stroller ever to be considered in Last Gadget Standing.
The Last Gadget Standing competition looks for products that will endure and are pioneering the ways in which the digital world will change. Judges include industry analysts and journalists from top technology publications, who use their expertise and user comments to narrow entries down to 25 semifinalists and then to ten finalists who present at CES in Las Vegas, where the audience will vote for a "people's winner" and the judges will decide the Last Gadget Standing.
"We're honored and excited to be a Last Gadget finalist," says Rob Daley, CEO of 4moms. "The Origami is so much more than an ordinary stroller, and this is a great opportunity to showcase it outside the juvenile industry. There's never been another stroller in this contest, and with all the Origami offers and its tech appeal, this audience won't forget it in a hurry."
The Origami is currently in pre-launch with limited availability, and will launch nationwide this month. For additional product information and retail locations, visit http://www.4moms.com. Details on the competition are available at lastgadgetstanding.com.
About the Origami
Strollers are all the same and haven't changed for decades. That's why 4moms developed the Origami power-folding stroller. At the touch of a button, it folds itself. It's also a cell phone-charging, mileage-counting, LCD-sporting stroller, with generators in the rear wheels that charge it as you walk. Plus, the Origami has daytime running lights, pathway lights for low-light conditions, and sensors that detect when a child's in the seat (so it'll never fold by accident). From power folding to cell phone charging, the Origami is what strollers should be. The Origami won the Kind+Jugend Innovation Award and Popular Science magazine's "Best of What's New" award in 2011.
About 4moms
Frequently referred to as "the Apple of the juvenile industry," 4moms began with a focus group of five moms from Mt. Lebanon, PA, who inspired the company's name (but 4moms sounds better than 5moms, so one mother took the title "The Stealth Mom"). Their experience (they have fifteen kids between them; one has two, yes two! sets of twins) plus the expertise of a team of thirty-six engineers, researchers, and developers gives 4moms its innovative edge in the field of juvenile product design.
4moms is a brand of Thorley Industries, Inc., a 5-year-old company that develops and markets products for the $7.0 billion juvenile products industry. 4moms' award-winning products are available at more than 500 of the top specialty retailers nationwide as well as several national web retailers. For more specifics on all 4moms' products, visit their website at http://www.4moms.com.
###