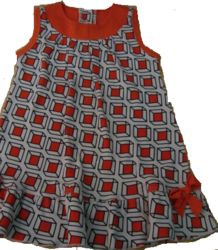 New York, NY (PRWEB) August 05, 2012
San Francisco based, award winning Origany, Inc. (http://www.origany.com) announces vibrant prints in their upcoming 2013 Spring Collection for infants, toddlers and girls up to the age of six. The Company will be positioned in booth #2433 at ENK Children's Club at Pier 94 from August 5th thru August 7th.
Origany, Inc. is the innovative Collection of celebrity friendly children's clothes, which will include six charming new prints. There are two zoo prints, two geometric prints and two flower design prints all of which will be accented with complementary solids. The garments include fashionable layettes to cute frilly tops/shorts and capris including beautiful dresses. Each print collection has twelve items. Some contemporary and some with retro style smock; making for the most extensive collection from Origany so far.
Origany's manufacturing and labor standards are reviewed by and compliant with Global Organic Textile Standards (GOTS). GOTS ensures the organic status of textiles, from harvesting of the raw materials, through environmentally and social responsible practices from manufacturing to labeling. Origany is also Green America certified. Origany clothing holds the belief that today's parents view their environment as well as fashion in a "Green" context. The Origany Company is committed to creating designs for babies and toddlers clothing that are sophisticated and super soft to touch. The fabric used in this collection is knit interlock and jersey fabrics. All cotton is colored with low-impact dyes further reducing environmental impact.
Origany Clothing has been seen in many magazines, including, Baby Talk Magazine and Baby and Kids Magazine. The website at http://www.origany.com has a web store with shopping cart and simplified shipping for customers who shop online. The ENK show is a favorite to shop for boutiques nationwide and with the new line of vibrant prints available; the anticipation for Origany grows with boutiques seeking Origany Clothing to add to their own unique store experience for customers.
Learn more by visiting http://www.origany.com
Follow us on http://www.facebook.com/Origany and http://www.twitter.com/origany
Contact: Info(at)origany(dot)com or 1-855-Origany to find a rep in your territory.