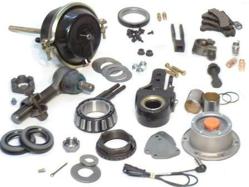 OEM parts are preferred by dealerships and recommended by automakers when replacements are required.
Seattle, Washington (PRWEB) June 16, 2013
BMW has produced vehicles for export in North America for decades. Owners of vehicles unable to find parts for vintage for late model vehicles outside of an actual dealership can now purchase online through the AutoProsUSA.com company. This company has now added original BMW parts in preowned condition and lists these online for a reduced price at
http://autoprosusa.com/bmw-salvage-parts. These parts are taken from operating vehicles purchased through leading secondary market supply companies able to provide preowned parts in above average condition for vehicle owners.
The luxury nature of BMW automobiles provides drivers with parts produced using precision processes. One drawback to owning these vehicles for some drivers is the inability to locate aftermarket auto parts to replace worn or defective units. OEM parts are preferred by dealerships and recommended by automakers when replacements are required.
The resources now available online by the Auto Pros company are set up to help owners of vehicles locate parts without lengthy research required. The discounted pricing now announced for all online sales is scheduled to stay in place for all sales processed this year.
"Our preowned parts provide genuine replacements without dealership pricing," a source from the AutoProsUSA.com company added. Vehicle owners taking part in DIY installations or using service centers now have the option of reducing the price replacing BMW parts when failure or breakdown occurs.
"Parts are added daily to the database online to provide a complete resource for researching and sticker price information," the source added. Because vintage parts can be more difficult to locate, the company database is expected to produce a better range of parts years for most vehicles produced within a three decade range.
Luxury car parts now provided for research and quotes for prices online include other manufacturers. Parts for Mercedes, VW, Lexus and other luxury brands can now be searched through the company system online. These parts are continuing the OEM trend of preowned parts sold directly to consumers or mechanics in North America.
A sample of these parts can be found at http://autoprosusa.com/used-vw-oem-parts. Companies now supplying replacement auto parts to the Auto Pros company are increased in numbers or decreased depending on current stock availability. Information for prices can be extracted from the database on a daily basis due to mulitple hourly upgrades.
Secondary auto parts supply companies interested in listing good condition parts with basic protection warranty policies can make contact with company management for new listings using the following information:
Auto Pros USA
1270 Crabb River Rd.
‪Richmond, TX 77469
(888) 230-1731
(713) 560-7017
About AutoProsUSA.com
The AutoProsUSA.com company directly links buyers with secondary sellers by using its online database of auto parts. Public access is granted to this searchable database and most parts for imported and domestically produced vehicles can be located using this company search system. Pricing reduced from MSRP is maintained through better relationships with companies able to lower pricing for average buyers. The AutoProsUSA.com company management has installed a price and location tool online now used 24 hours a day to provide updated sticker price information from all company suppliers.