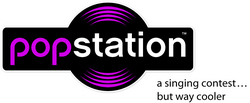 The concept is about unleashing your inner rock star, democratizing music, and having fun
New York, NY (Vocus) October 7, 2010
A new startup launched its website last week with the intention of challenging American Idol as the first completely web-based national singing competition. In the wake of decreasing broadcast television viewership, declining traditional record label revenues, and the massive rise of viral YouTube music sensations, Popstation.com is a pioneering platform where music fans can vote on hopeful artists singing original music-all online. The winner of each daily contest is awarded five hundred dollars and their single is digitally distributed globally, including iTunes and internet radio. With their claim of "No Lines, No Judges" Popstation strives to deliver where American Idol fails.
"The concept is about unleashing your inner rock star, democratizing music, and having fun," states Popstation CEO, Howard Crocker. "We are the anti-American Idol -it's time to truly level the playing field."
The popular FOX series has come under fire in the past for selecting finalists based on appearance over actual singing talent. This affects the remaining talent pool that viewers actually vote on in the final rounds of the competition. That coupled with audition horror stories of waiting in long lines during the summer heat, not getting to tryout in front of the famous judges, and difficulty making covers of well-known songs sound unique ignites the perfect storm for a new kind of singing contest.
"Popstation is different because the contestants are singing original Popstation music for the chance to win a contest every day. It's inclusive, meaning that it doesn't matter how old you are, or what you look like. All that matters is how you sing," says Crocker.
Users are given two weeks to practice and record an original Popstation song, followed by two weeks of fans voting thumbs up or thumbs down. Artists sing right into their computer, utilizing a proprietary patented online recording studio that lives right on the site. No downloading or technical training is required to use the studio-the contestants simply sing directly into their computers.
One new original Popstation song is released every day from the genres of Pop, Rock, Hip-Hop, Country and Latin. Artists record their best version of a song, so that every contest is a battle of multiple artists' take on the same original song. As NYC-based Popstation artist Michal Towber puts it," It's easier to judge when everyone's singing the same song."
The new website is strongly linked to Twitter, Facebook, and YouTube, allowing artists an easy way to access the top communities for what they hope will be winning viral promotion.
###