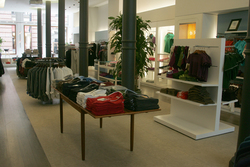 "Initially conceived as a six-month venture, the success of the SoHo pop-up store demonstrates how Original Penguin has met the customer need in this area. Taste-makers seeking out classic, original items from a retailer with genuine heritage have zeroed
New York, NY (PRWEB) March 15, 2010
Original Penguin, the vintage American brand known for its witty retro clothing, has signed a long-term lease for the temporary "pop-up" store it opened last fall 2009 in New York City's SoHo district.
"Initially conceived as a six-month venture, the success of the SoHo pop-up store demonstrates how Original Penguin has met the customer need in this area. Taste-makers seeking out classic, original items from a retailer with genuine heritage have zeroed in on this beautiful store and made this location an outperformer," says Chris Crivelli, Original Penguin's Vice President of Retail.
The SoHo store features five fitting rooms and a lounge with hand-selected Danish Mid-Century Modern furniture, and is decorated with vintage posters and photos from Original Penguin's 55-year-old history. The artwork includes advertising campaigns from the 1950s and 1960s, as well as archival material from the brand's early years in Minneapolis, Minnesota.
The 3,200-square-foot loft-style location offers a full selection of men's clothing, ranging from formal suits and ties to graphic tees and jeans. Footwear, hats, watches and signature women's items such as polos and sweaters are also available, as well as a small selection of kids' and babies styles.
The SoHo location marks the brand's 18th store opening worldwide, joining an ever-expanding global presence that includes retail stores in Chile, the Philippines, South Africa, and England.
Original Penguin SoHo is located at 103 Greene Street between Prince Street and Spring Street. Hours of operation are 11am- 7pm (Monday – Saturday) and 12pm-6pm (Sunday).
###