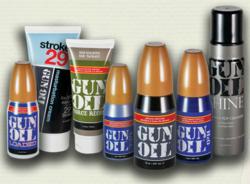 Gun-Oil: from battlefield to bedroom to mainstream retail
Las Vegas, Nevada (PRWEB) January 29, 2013
Empowered Products, Inc. unveiled today the unique origin of its hugely popular Gun-Oil® and PINK® lines of personal lubricant products, a history that began on the Desert Storm battlefield in Kuwait and has grown to the store shelves at America's largest retailers, and beyond.
Check out Empowered Product's complete Gun-Oil and PINK product lines at: http://www.gunoil.com and http://www.pinkforus.com
Scott Fraser, founder of Las Vegas-based Empowered Products, and creator of Gun-Oil and PINK personal lubricant products, was a U.S. Marine platoon leader stationed in Kuwait during Desert Storm and observed soldiers using CLP liquid, which keeps firearms and other weapons clean and firing accurately, as an available personal lubricant when self-relief was an outlet for alleviating stress.
Movie fans will recall similar scenes from the 2005 movie Jarhead starring Jake Gyllenhaal, which was based on former Marine Anthony Swofford's best-selling 2003 book about his pre-Desert Storm experiences in Saudi Arabia and fighting in Kuwait. In the book and movie, soldiers find unique and personal ways to deal with months of boredom in the desert, separation from loved ones, and the stress building up to the assault on Iraq.
Upon his return from duty, Fraser worked with scientists to create a custom, balanced formula for Gun-Oil that was hypoallergenic and topically safe, and duplicated CLP liquid's long-lasting properties. The following year, he developed PINK, a line of intimate products for women who desired added lubrication for intercourse, toys and foreplay.
Today Empowered Products is one of the fastest-growing companies in this category and Gun-Oil and PINK products can be found on the store shelves of America's largest retailers including Walgreens, CVS, and Target.com, and in retail locations in more than 30 countries.
"History is full of stories of successful products that sprang from unlikely circumstances," said Fraser. "Quite frankly, I have the selfless service of the world's most elite fighting corps to thank for inspiring the creation of products that enable men and women to be all they can be in the bedroom."
PINK and Gun-Oil personal lubricant products are available in silicone, water-based and hybrid formulas that are condom-compatible and contain all-natural botanicals for restorative and healing properties. PINK products can be purchased online at http://www.PinkForUs.com; and, Gun-Oil products at http://www.GunOil.com.
About Empowered Products, Inc.
Empowered Products, Inc. (OTC: EMPO), with headquarters in Las Vegas, Nev., has forged a leading presence in the global wellness industry with the development, manufacture, and distribution of high-quality sexual wellness products for men and women. The Company's branded PINK and Gun-Oil lines of lubricants are available in more than 3,000 retail locations in more than 30 countries. For more information, visit the company website at http://www.EmpoweredProducts.com or call (800) 929-0407.