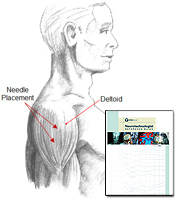 The first version authored and released in 2008 was well received. We solicited and received comments on how to improve upon the 1st edition. The results are found in the second edition. We think it will simplify the procedure set up for neuro monitoring technologists while they are applying the electrodes in the OR
Rancho Cordova, CA (PRWEB) July 1, 2009
ORIMtec, a Rancho Cordova, CA surgical monitoring company has released the first revision of its Neurotechnologist Reference Guide. ORIMtec's newest version of its Neurotechnologist Reference Guide contains detailed, hand drawn illustrations of muscle groups showing needle placement. Included with each illustration is a description of the muscle action to identify each muscle and the primary nerve root innervations.
"The first version authored and released in 2008 was well received. We solicited and received comments on how to improve upon the 1st edition. The results are found in the second edition. We think it will simplify the procedure set up for neuro monitoring technologists while they are applying the electrodes in the OR" says Richard Slepian, President of ORIMtec.
ORIMtec believes that raising the standards of neuromonitoring will improve surgical outcomes thus improving the quality of life of numerous surgical candidates. ORIMtec's Neurotechnologist Reference Guide is one step in that direction.
Contact:
Richard Slepian, President
ORIMtec
(877) 636-0112
http://www.orimtec.com
###