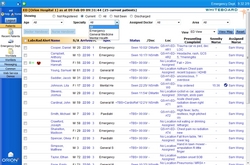 Chicago, IL (PRWEB) April 6, 2009
Orion Health, Inc., a market leader in providing clinical workflow and integration technology for eHealth, today announces that hospitals are using Concerto Whiteboard to improve the level of patient care and streamline workflow for more efficient management in emergency room and wards. The company makes this announcement from the 2009 Annual HIMSS Conference & Exhibition at McCormick Place in Chicago, where they are exhibiting at booth number 2468.
Concerto Whiteboard is a real-time patient tracking system to provide healthcare workers with a single view of patient information. By displaying an electronic health record (EHR) comprised of information pulled from multiple hospital systems, physicians and nurses can view patient status at a glance from any workstation. Access to a complete clinical record helps aid physicians to make accurate and speedy diagnosis and prioritize patients by need. The solution supports multiple views such as pediatrics ward whiteboard, oncology ward whiteboard as well as presenting a whiteboard for the emergency room.
Greene Memorial Hospital Senior Software Engineer Bryant Bolden believes the comprehensive data and mobility of the solution is a key to improving physician efficiency. "Our emergency room physicians are constantly on the go between patients. Requiring doctors to walk back to a central location to assess the next patient in the priority list meant critical time was wasted. Our staff can access that data at the nearest terminal or laptop. Having information the physician's need, where they need it helps them to provide better patient care."
An extension of Orion Health's Concerto Physician Portal, Concerto Whiteboard presents all available health information including laboratory tests, radiology reports and clinical notes for an individual patient. Patient information is updated in real-time and is available from any workstation or web enabled device such as an MCA Motion C5.
Concerto Whiteboard displays information in a format very similar to traditional hospital whiteboards, but with additional interactive content. Hyperlinked text and clickable graphical icons link to further clinical information. A clickable patient locator map displays a layout of the facility and can be used by triage or charge nurses to view available beds for admissions.
Orion Health President of North America and Europe Middle East and Africa Paul Viskovich says, "Critical care facilities are at the forefront of needing to make quick diagnosis and prescribe medications and procedures in life or death situations. By presenting them with a complete clinical record, Concerto Whiteboard can improve patient outcomes and physician efficiency."
Concerto Whiteboard is also being used at several facilities in the United Kingdom and Spain's Son Dureta Hospital's Emergency Department.
About Orion Health:
Orion Health's easy-to-use solutions and applications improve patient care and clinical decision making by providing integrated health data in a single, unified view. By enhancing existing healthcare information systems, Orion Health's Rhapsody™ Integration Engine, Concerto™ Physician Portal, and workflow solutions provide healthcare workers with easy access to patient data and trends, and reduce errors and omissions by streamlining information transfer.
Worldwide, Orion Health is implementing health information communities involving over 35 million patients with tens of thousands of active users including Maine's HealthInfoNet and the Vermont Health Information Exchange. Orion Health's partners include leading health system integrators and IT vendors such as Accenture, IBM, Oracle Corporation, Sierra Systems and others. Orion Health has more than 1,000 clients around the world, including Lahey Clinic, New York State Department of Health, UCLA Medical Center, and U.S. Centers for Disease Control and Prevention (CDC). More information can be found at http://www.orionhealth.com.
Concerto and Rhapsody are registered trademarks of Orion Health and/or its affiliates. Other names may be trademarks of their respective owners.
###