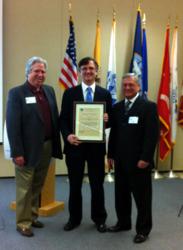 Orion VIS is partnered with Veterans and Social Service Organizations to deliver safe and timely transportation for critical medical services.
Joint Base McGuire-Dix-Lakehurst, NJ (PRWEB) April 18, 2012
SMART (Strengthening the Mid-Atlantic Region for Tomorrow), a Congressional initiative for collaborative science and technology advocacy representing senior leaders from all elements of both public and private sectors in DE, MD, NJ, and PA has awarded Orion VIS and Union Organization for Social Service (UOSS) the Executive Director Achievement Award for their resolution of underfunded transportation IT requirements for Social Services in Camden County and South Jersey.
Orion VIS is the manufacturer of Intelligent Transportation Systems (ITS) that provide Vehicle Intelligence Systems and communication technologies used for vehicle location, directional assistance, live operator emergency support, and other vehicle and passenger monitoring requirements for both individual and fleet operators. The goal of the UOSS, a senior homeowner safety initiative for Camden County, NJ, is to install an Orion VIS vehicle management system in each of its field staff vehicles to help reduce cost and provide maximum coordination and security for volunteer ride programs for seniors, Veterans and returning wounded warriors.
Robert Schiavinato, Executive Director UOSS commented that, "Delivering needed social services to our seniors, veterans and returning wounded warriors is becoming more and more challenging with continued funding reductions. Utilizing a state-of-the-art technology like Orion VIS helps us reduce cost and provide better coordinated service to these important groups." Paul Bucha, Medal of Honor recipient and advisor to Veteran's Advantage, the finest Veteran's benefits program in the country, stated, "This program fulfills a void in providing Veterans and wounded warriors with timely transportation for critical medical services."
Robert Carullo, Executive Director of SMART, pointed out that, "This project is a perfect example of how the SMART teamwork process works. We identify unfunded or underfunded legitimate requirements, form a project team and then seek cost effective technology solutions. This is exactly what the Congressional Caucus and the States chartered us to do and I am very happy to present this award to this team. I would also add that we are chartered to seek regional priority topics. So, along those lines, I am also pleased that we have extended the range and depth of SMART to Social Services requirements."
John Kelley, from Orion VIS notes, "Intelligent Transportation Systems or ITS is what we do. However, we are grateful to the team of SMART, UOSS and our Veterans for making this technology available to those in need."
About Orion VIS:
Orion VIS provides Intelligent Transportation Systems (ITS) that offer extensive sensor and geospatial monitoring and communication for a broad range of transportation needs for passenger vehicles and fleets. For larger truck and trailer fleets, railroads, off-road, watercraft, and aircraft, visit Elite VIS at http://www.EliteVIS.com. Its most recent product, Lynx, is a non-contact sensor technology intended to significantly reduce the cost of medical home care through the use of unattended, 24/7 real-time monitoring and transmitting of patient vitals to a central evaluation facility using cloud technology. To learn more about Orion VIS, visit: http://www.OrionVIS.com. For additional information on SMART contact Bob Carullo, bcarullo(at)smartstates(dot)com and for Veterans Advantage contact Paul Bucha, pbucha(at)veteransadvantage(dot)com.