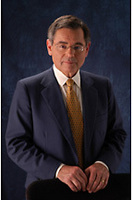 and the accountant's reply (I assume you have.)
Orlando, FL (PRWEB) August 25, 2008
Orlando defense attorney Mark Horwitz's strategy and cross-examination acumen have earned him recognition in the national legal publication "Criminal Trial Techniques." Co-authored by F. Lee Bailey and Kenneth J. Fishman, Justice of the Massachusetts Superior Court, the review of Horwitz's defense of Robert Bishop in the case United States v. Robert Ernest Bishop appears in a recent "Criminal Trial Techniques" supplement.
Bishop was charged with 12 felony counts of willfully failing to collect and pay to the Internal Revenue Service (IRS) withholding tax required to be deducted from employees pay from 2000-2003. The government contended that Bishop owed more than $685,000 in withholding taxes. He could have been sentenced to a maximum of 60 years in prison if found guilty on all felony counts.
The main contention of Horwitz's defense was that Bishop had relied totally on his accountant for proper handling of the withholding tax for his business and that the accountant had betrayed that trust. Bailey and Fishman point out in their "Criminal Trial Techniques" review that "this defense - reliance on the incorrect advice of another - is one of the most difficult to manage."
Horwitz's devastating cross-examination of the accountant revealed that the accountant had knowingly filed false tax returns and lied to the IRS. Two government agents involved in the case later testified that they did not know the accountant had lied to them until they heard him admit it during the cross-examination.
Bailey and Fishman call Horwitz's final question for the accountant (Now, have I covered all of the lies that you've made to the Internal Revenue Service?" and the accountant's reply (I assume you have.) "a cross-examination Grand Finale of the highest order."
Bishop was found not guilty on all 12 felony counts on Jan. 24. On Aug. 5, Horwitz received notice that his motion to set aside the guilty verdict and for acquittal on a final misdemeanor count of providing false documents to the IRS had been granted and Bishop's sentencing cancelled.
In closing, Bailey and Fishman write that Horwitz's representation of Bishop "presents an excellent example of what a difference good lawyering can make. Less deftly handled, the defense case could easily have resulted in one or more convictions on the felony counts; in that case, the federal sentencing guidelines would have taken a severe bite out of Bishop's remaining years."
A defense attorney specializing in white-collar crimes such as tax evasion for more than 30 years, Horwitz began his career prosecuting tax cases in the 1970s as an Assistant United States Attorney.
About Mark Horwitz: With more than 30 years experience, Horwitz specializes in white-collar crime and, more specifically, in the areas of tax evasion, mail and wire fraud. A Fellow of the American College of Trial Lawyers and listed in Best Lawyers in America, Horwitz's legal experience includes not only private practice, but also many years as an Assistant United States Attorney. Horwitz is a member of The Florida Bar, The Colorado Bar and The District of Columbia Bar. Horwitz also is a Board Certified Criminal Trial Advocate of the National Board of Trial Advocacy and is certified as a Criminal Trial Specialist by The Florida Bar. Please visit http://www.mlhorwitzlaw.com for more information about Orlando defense attorney Mark Horwitz.
case # 6:07-cr-00011-JA-KRS-1
###