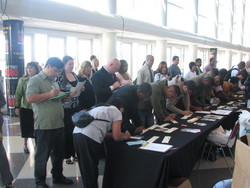 Personal Branding and the Power of the Internet
Orlando, FL (PRWEB) April 13, 2009
On Thursday, April 16, the Orlando Employment Guide, a division of Dominion Enterprises, will host a job fair and seminar from 11 a.m. to 3 p.m. at the historic Plaza Theatre. Florida Governor Charlie Crist will make a special appearance.
Free and open to the entire Central Florida community, this Orlando job fair will feature more than 40 companies actively looking to hire local job seekers ranging from sales professionals, engineers to skilled trades such as drivers, retail and hospitality representatives.
In conjunction with the job fair, The Employment Guide will host an information seminar to include a keynote opening address by Governor Charlie Crist.
10:15 - 10:30 a.m. Opening remarks by Gov. Charlie Crist
11:00 - 11:45 a.m. "Personal Branding and the Power of the Internet" Mark Krupinski, Rasmussen College
12:00 - 12:45 p.m. "Advanced Tactics for Online Job Seekers" Greg Rollett, The Employment Guide
1:00 - 1:45 p.m. "Managing Finances While Job Seeking" Keli Kareem, Bank of America
2:00 - 2:45 p.m. "Opportunities in a Recession from Starting a Business to Opening a Franchise" Brian Govoni, Govoni Properties & Investments
Each session will include handouts, worksheets and other materials and will be followed by a 10-minute Q and A session.
The first 800 jobseekers to pre-register for the event will gain access to Gov. Christ's opening remarks and early access to hiring companies. Participants may pre-register by visiting http://orlandojobfair.eventbrite.com.
Hiring companies interested in participating in the vent should send an email to greg.rollett@employmentguide.com or call 407-673-6101.
What: Orlando Employment Guide Job Fair and Seminar
When: Thursday, April 16th from 10am - 3pm
Pre-registered job seekers may enter at 10am
Open to walk-ups and the general public at 11am
Where: The Plaza Theatre
425 North Bumby Ave.
Orlando, FL 32803
For more information please visit the Orlando Employment Guide at: Orlando.EmploymentGuide.com.
The unemployment rate in the state of Florida has now increased to more than 9 percent. This recent spike in unemployment has affected many lives, businesses and futures in Central Florida. The Orlando Employment Guide is determined to help the community of Orlando get back on its feet and create a positive outlook on their futures and careers. The Orlando Employment Guide produces a weekly local printed publication, online Web site of Orlando jobs, and regularly hosts job local job fairs.
About The Employment Guide and EmploymentGuide.com:
The Employment Guide is a division of Dominion Enterprises. The Employment Guide and EmploymentGuide.com offer businesses a comprehensive recruitment solution for hourly workers through a nationwide series of publications, award-winning Web sites, and series of job fairs. The free weekly publications are published locally in more than 75 markets with a combined circulation of 2.8 million copies nationwide. The job board, http://www.EmploymentGuide.com , attracts more than 1.8 million unique visitors looking for jobs each month and features a candidate database and job postings. Niche Web sites CareersInGear.com,.HealthCareerWeb.com, and WiserWorker.com have been developed to serve in-demand industries and demographics. Face-to-face recruitment is available through The Employment Guide's job fair program, with more than 250 job fairs conducted nationwide each year. For more information about The Employment Guide, visit http://www.EmploymentGuide.com .
About Dominion Enterprises:
Dominion Enterprises is a leading marketing services company serving the automotive, enthusiast and commercial vehicle, real estate, apartment rental, and employment industries. The company's businesses provide a comprehensive suite of technology-based marketing solutions including Internet advertising, lead generation, CRM, Web site design and hosting, and data management services. The company has more than 45 market-leading Web sites reaching more than 16.7 million unique visitors, and more than 450 magazines with a weekly circulation of 4.3 million. Headquartered in Norfolk, Va., the company has 5,400 employees in more than 200 offices nationwide. For more information, visit DominionEnterprises.com.
###