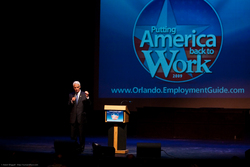 especially during economic times like these, we care about people before we care about party
Orlando, Fla. (PRWEB) April 30, 2009
On Thursday, April 16, at the Plaza Theatre in Downtown Orlando, there was a hint of hope in the air at the Orlando Employment Guide's Job Fair. Florida Governor Charlie Crist opened the event and spoke of the economy and the stimulus, which he said will bring "jobs, job, jobs" to Central Florida.
Governor Crist said, "especially during economic times like these, we care about people before we care about party". He informed job seekers that approximately $1 billion from the stimulus package would be used in order to generate over 30,000 new jobs in the state of Florida.
As part of the "Putting America Back to Work" job fair series, exit polls from employers showed that more than 700 jobs were up for grabs at the event and employers were hopeful that they would hire over 550 people directly from this job fair.
Patrick O'Brien, general sales manager of the Orlando Employment Guide said of the event, "We knew job seekers were tired of the same companies who weren't really hiring at these events, so we reached out to new companies and made it mandatory that they have open positions to be filled in order to attend."
For job seekers looking to further their careers, sessions on "Personal Branding" by Mark Krupinski and "Advanced Online Job Seeking Practices" by Greg Rollett were a breath of fresh air during these turbulent and stressful times.
Despite Florida's growing unemployment rate, the Orlando Employment Guide is determined to help the community get back on its feet and create a positive outlook for its citizens' futures and careers.
The Orlando Employment Guide produces a weekly local printed publication, a Web site of Orlando jobs, and regularly hosts local job fairs.
For more information regarding the event, including presentations, photos, video and further statistical data, please contact Greg Rollett at greg.rollett@employmentguide.com.
About The Employment Guide and EmploymentGuide.com:
The Employment Guide is a division of Dominion Enterprises. The Employment Guide and EmploymentGuide.com offer businesses a comprehensive recruitment solution for hourly workers through a nationwide series of publications, award-winning Web sites, and series of job fairs. The free weekly publications are published locally in more than 75 markets with a combined circulation of 2.8 million copies nationwide. The job board, http://www.EmploymentGuide.com, attracts more than 1.8 million unique visitors looking for jobs each month and features a candidate database and job postings. Niche Web sites CareersInGear.com,.HealthCareerWeb.com, and WiserWorker.com have been developed to serve in-demand industries and demographics. Face-to-face recruitment is available through The Employment Guide's job fair program, with more than 250 job fairs conducted nationwide each year. For more information about The Employment Guide, visit http://www.EmploymentGuide.com.
About Dominion Enterprises:
Dominion Enterprises is a leading marketing services company serving the automotive, enthusiast and commercial vehicle, real estate, apartment rental, and employment industries. The company's businesses provide a comprehensive suite of technology-based marketing solutions including Internet advertising, lead generation, CRM, Web site design and hosting, and data management services. The company has more than 45 market-leading Web sites reaching more than 16.7 million unique visitors, and more than 450 magazines with a weekly circulation of 4.3 million. Headquartered in Norfolk, Va., the company has 5,400 employees in more than 200 offices nationwide. For more information, visit DominionEnterprises.com.
###