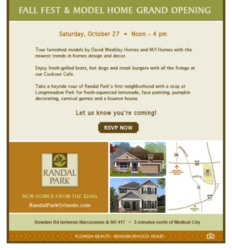 ORLANDO, FLORIDA (PRWEB) October 23, 2012
Randal Park, a master-planned community in Orlando, will host a party on Saturday from noon to 4 p.m., celebrating the grand opening of its first two model homes, built by David Weekley Homes and M/I Homes.
The two model homes, featuring the newest trends in design and decor, will be available for tours throughout the celebration.
Representatives from the community will be grilling hot dogs, brats and steak burgers with all of the fixings at the party's Cookout Cafe.
The party will also feature a hayride tour of Randal Park's first neighborhood. The tour will stop at Longmeadow Park, the park closest to the Randal Park community center, for fresh-squeezed lemonade, face painting, pumpkin decorating, carnival games and a bounce house.
The elevations for both model homes are viewable on the Randal Park website's home finder.
M/I's model home is the Barrington, a three-bedroom, two-and-a-half bath, two-story home. It features indoor and outdoor gathering areas, including two covered porches. David Weekley will be featuring its Calypso model, a three-bedroom, two-bathroom home with a swimming pool and fire pit.
The homes are only a 10-minute drive from Medical City, which is projected to bring 30,000 jobs to Orlando and have a $7.6 billion impact on the economy in the next 10 years.
About Randal Park
Randal Park is a new 700-acre master-planned community for 750 homes located at the intersection of Dowden Road and SR 417, a 20-minute drive from Downtown Orlando and 10 minutes from Medical City. Some 300 acres of the heavily-wooded property has been set aside for wilderness, parks and biking and hiking trails. Among the community's amenities is a community center that features a large swimming pool, an open pavilion and wide lawns for neighborhood gatherings.