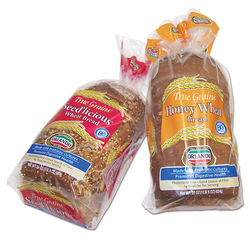 "As we see it, the True Grains probiotic line positions sliced bread back on top as the greatest thing ever." - Nick Orlando, Vice President of Sales
Cleveland, OH (PRWEB) January 13, 2011
Cleveland-based Orlando Baking Company has introduced True Grains, an exclusive line of whole wheat breads specially formulated with probiotic cultures which promote digestive health.
Orlando's True Grains line, which includes Honey Wheat, a delicious wholesome bread, and Seed'licious, a multi-seed bread, represents the first line of probiotic breads in North America, according to the company.
Each loaf of True Grains bread offers a flavorful source for healthy eating. The Honey Wheat bread is made with whole wheat flour and contains zero trans fat. Seed'licious wheat bread is textured with flax seeds, sunflower seeds, chia seeds and millet which give the bread a distinctly unique taste and added nutritional value. The probiotic breads, which are kosher certified, retail for $3.99 a loaf and will initially be sold exclusively at all Heinen's Fine Foods stores through January.
The True Grains line is the result of a two-year developmental process between Orlando Baking Company and Ganeden Biotech, a leader in probiotic-based digestive health applications. True Grains breads are baked with GanedenBC30® probiotic, a safe and powerful strain of Bacillus coagulans formulated and patented by the Cleveland-based company.
The GanedenBC30 probiotic was specifically developed for food producers and can withstand high heat, freezing, mechanical stress, high pressure and long term storage.
The launch of Orlando's True Grains probiotic bread line comes at a time when Americans are spending more than $1 billion each year on probiotic-based products, which were first introduced in dairy products and as dietary supplements. Thanks to advanced research conducted by companies like Ganeden Biotech and pioneering food producers like Orlando Baking Company, probiotics are making their way into a host of food products, including baked goods, nutrition bars, soups, hot and cold beverages, prepared foods and confectionery goods.
"As we see it, the True Grains probiotic line positions sliced bread back on top as the greatest thing ever," quipped Orlando vice president of sales Nick Orlando, whose family-owned Cleveland bakery has been in operation since 1872. "Our probiotic breads will appeal to consumers who may suffer from digestive health issues and are interested in the benefits of maintaining a healthy belly."
Being first-to-market with new product categories is nothing new to Orlando Baking Company, which introduced European-style ciabatta bread to the United States in the 1987. The iconic Cleveland company bakes 200,000 pounds of bread each day and sells more than 250 types of breads, rolls and specialty items to large retailers and foodservice outlets around the country.
About Orlando Baking Company
Founded in Castel di Sangro, Italy in 1872, family-owned Orlando Baking Company serves a nationwide retail and foodservice market from its 300-employee bakery in Cleveland, Ohio. Orlando produces an ever-expanding line of sandwich breads and buns, and dinner breads and rolls which are available in grocery stores and neighborhood markets. The company also creates specialty Orlando Brand and private label items for large retailers, foodservice outlets and distributors nationwide. Orlando's frozen products include an extensive line of ciabatta breads, garlic breads, toasts, sticks and loaves in a variety of flavors and sizes. For more information, visit orlandobaking.com.
About Ganeden Biotech
Founded in 1997, Ganeden Biotech, Inc. is based in Cleveland, Ohio, and is the largest seller of
over-the-counter probiotics in the U.S. through its Digestive Advantage® and Sustenex® brands. It also licenses its patented probiotic bacteria, GanedenBC30®, for use in commercial food and beverage applications, nutraceuticals and in animal health industries. GanedenBC30® is self-affirmed GRAS (Generally Recognized as Safe) by an independent panel of experts assembled to assess its safety in use as a food ingredient. For more information, visit ganedenlabs.com.
###