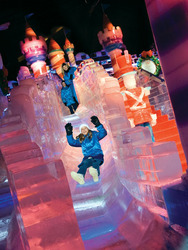 Best of Florida Christmas is all about creating family memories
Kissimmee, Fla. (PRWEB) October 23, 2007
Gaylord Palms Resort, the "headquarters hotel" for the Christmas season in Orlando, has announced a new holiday partnership with Give Kids The World, an organization that provides cost-free vacations for children with life-threatening illnesses and their families at their whimsical Kissimmee resort.
As part of the partnership, Gaylord will provide a donation to the organization for every full-price child's ticket sold to ICE!, a walk-through holiday attraction hand-carved from nearly two million pounds of ice. During the run of the event, Nov. 19 to Jan. 3, a minimum of $10,000 will be donated to the charity. In addition, the resort will offer complimentary entry into the attraction to families staying at the Give Kids The World Village.
The partnership is part of the resort's Best of Florida Christmas celebration, featuring live entertainment, unique attractions and holiday activities held to commemorate the Christmas season.
From the very first family who visited in 1986, to the families that are arriving at the gates of the Village today, thousands of "Wish Families" each year have enjoyed a few precious days away from hospitals, doctor visits and medical treatments. For one week, parents have the chance to see their children laughing and having fun, without worrying about doctors or hospitals. And kids get the opportunity to see their parents having fun and not worrying about money, appointments, or anything at all. United in their desire to be a family and to have fun, they relax in a special environment filled with laughter, joy and hugs.
In celebration of its 20-year anniversary in 2006, Give Kids The World began an ambitious property expansion that will more than double the capacity of family villas inside the Village from 96 to 196. This is a major step in achieving its mission to fulfill the wishes of all children with life-threatening illnesses and their families from around the world whose one wish is to visit Central Florida's attractions.
"Best of Florida Christmas is all about creating family memories," said Kemp Gallineau, Gaylord Palms Resort general manager. "We are thrilled to help create additional memories for the guests of Give Kids The World Village, many who have traveled from around the world to spend a Christmas in Orlando."
"Give Kids The World makes dream wish vacations come true for children with life-threatening illnesses," said Pamela Landwirth, president, Give Kids The World. "Everyday, these children and their families come to Central Florida to experience all the wonder and magic we have to offer. Our exciting partnership with the Gaylord Palms now gives these special families something new, unique and truly memorable. We are honored to be a part of this amazing event."
ICE!, the marquee attraction of Best of Florida Christmas, is a wildly popular family experience that combines fantastic frozen creations, thrilling ice slides, dramatic lighting and special effects. This year's attraction, which reflects the theme "A Holiday Road Trip," is presented by Coca-Cola and sponsored by Nissan, and Sara Lee Food Service.
The ICE! attraction is carved by a team of 40 artisans from Harbin, China. Since its inception, this unique attraction has garnered national recognition from the Today show, USA Today, The New York Times, Wall Street Journal, Southern Living, and Travel + Leisure.
In addition to ICE!, Best of Florida Christmas (Nov. 19-Jan. 3) highlights include:

ICE! Skating: A larger outdoor skating rink offering a holiday tradition common only in northern climates.
"Luminescence - A Christmas Fantasy" Stage Show: A heartwarming tale with inspired music that is as edgy as it is classic. Part rock and roll show, part holiday tale, part aerial exhibition, "Luminescence" will bring a sense of joy, awe and wonderment to the holiday season.
Hidden Holiday Gnome Hunt, featuring The Roaming Gnome: Families can hunt throughout the Gaylord Palms atriums to spot cleverly hidden gnomes (presented by Travelocity).
To learn more about Best of Florida Christmas, call (407) 586-4-ICE. To learn more about other holiday events in Central Florida, visit http://www.ChristmasInOrlando.com.
About Give Kids The World
Give Kids The World Village (GKTW) is a 70-acre, non-profit resort in Central Florida that creates magical memories for children with life-threatening illnesses and their families. GKTW provides accommodations at its whimsical resort, donated attractions tickets, meals and more for a week-long, cost-free fantasy vacation. With the help of many generous individuals, corporations and partnering wish-granting organizations, Give Kids The World has welcomed more than 75,000 families from all 50 states and over 50 countries. For more information, visit http://www.gktw.org.
About Gaylord Palms Resort
Gaylord Palms Resort & Convention Center has gained the attention of the meeting and convention industry by providing world-class convention and leisure-focused amenities - all in one place. The award-winning Gaylord Palms is a Gaylord Hotels-branded property owned by Gaylord Entertainment (NYSE: GET), a leading hospitality and entertainment company based in Nashville, Tenn. For more information, visit http://www.gaylordpalms.com or http://www.gaylordentertainment.com.
# # #