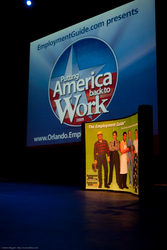 Advanced Online Job Seeking Tools
Orlando, FL (PRWEB) July 27, 2009
The unemployment rate in Central Florida has now gone over 10%. This recent spike in unemployment has affected many lives, businesses and futures right here in Central Florida. The Orlando Employment Guide is determined to help the community of Orlando get back on their feet and create a positive outlook on their futures and their careers.
To help put Central Florida back to work, the Employment Guide is hosting a Job Fair with top local hiring companies on Tuesday, July 28th at DeVry University. The event will also feature an information seminar that will include individualized resume critique sessions, "Advanced Online Job Seeking Tools" presented by Greg Rollett from the EmploymentGuide.com, and "Using Social Media to Find The Perfect Job" presented by Rock The Job. Every job seeker who attends will also receive a free subscription to ProRezOnline.com in order to easily create a search engine friendly personalized resume website designed to help manage their job search.
This opportunity for networking and meeting with hiring companies is free for all local job seekers. There will be over 20 hiring companies present at the event with hundred's of job openings available. While unemployment has been rising nationally, The Employment Guide has successfully placed over 11,000 Americans back to work since the beginning of this year through our job fair series. You can pre-register for the Orlando Job Fair by going to Orlando Job Fair.
If you are a hiring company and would like to get in front of Central Florida's top job seekers, please send an email to greg.rollett(at)employmentguide.com or call our offices at 407-673-6101.
What: Orlando Employment Guide Job Fair and Employment Seminar
When: Tuesday, July 28th from 10am - 3pm
Where: DeVry University
4000 Millenia Blvd.
Orlando, FL 32839
For more information please visit the Orlando Employment Guide at: Orlando EmploymentGuide.com.
Pre-register for the event at: Orlando Job Fair
For all media inquiries, please contact Greg Rollett at 407.673.6113 or greg.rollett(at)employmentguide.com.
###