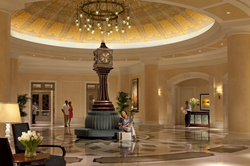 The staff was amazing when it came to hosting us as a family. The Waldorf Astoria Orlando has raised the bar in Orlando...
Orlando, Fla. (PRWEB) June 4, 2010
Waldorf Astoria® Orlando, the 498-room hotel which opened late last year, has been accepted into Virtuoso® luxury travel network, a by-invitation-only organization comprising more than 300 agencies which represent more than 6,000 elite travel specialists throughout the world. Surrounded on three sides by Walt Disney World® Resort, Waldorf Astoria Orlando aims to enrich the travel experience to the destination through its impeccable service and collection of amenities including the first Waldorf Astoria® Golf Club, first WA Kids children's program, Waldorf Astoria Spa by Guerlain® and fine dining establishments such as the famous Bull & Bear Steakhouse®.
"We are honored to be part of this exceptional organization and look forward to working with Virtuoso's esteemed list of industry experts to reach affluent travelers seeking a new way to vacation in Orlando," states Peter Kacheris, managing director of Bonnet Creek, home to Waldorf Astoria Orlando and Hilton Orlando Bonnet Creek.
"As a veteran of many FAM trips and site inspections over the years, I found the idea of having a family FAM trip a great inspiration. I got to experience the new Waldorf Astoria Orlando through the eyes of my children. How appropriate is that for Orlando! I was impressed with the physical plant, but what impressed me the most was the balance they achieved between sophistication and the human touch. The staff was amazing when it came to hosting us as a family. The Waldorf Astoria Orlando has raised the bar in Orlando and is a welcome addition to Virtuoso's 'Best of the Best' hotel and resort portfolio," stated Matthew D. Upchurch, CTC, CEO of Virtuoso.
Bonnet Creek is a 482-acre vacation destination encompassing the Waldorf Astoria Orlando and Hilton Orlando Bonnet Creek. Waldorf Astoria Orlando is inspired by the elegance and grandeur of its legendary New York namesake. The property features signature Waldorf Astoria food and beverage establishments such as Peacock Alley® and Bull & Bear Steakhouse, 28,000 square feet of exclusive flexible meeting space and a variety of pre-function areas. The outdoor facilities boast a formal signature pool, encircled by chic private cabanas and complimented by lush tropical landscaping. Its outdoor venues include Bonnet Creek Island, a private retreat ideal for cocktails or storybook weddings, the Rees Jones-designed Waldorf Astoria Golf Club, WA Kids children's program, 24,000-square foot Waldorf Astoria Spa by Guerlain® and 4,000-square-foot fitness center. For more information on the Waldorf Astoria Orlando, please call (407) 597-5500 or visit http://www.waldorfastoriaorlando.com.
About Virtuoso:
Virtuoso is the industry's leading luxury travel network. This by-invitation-only organization comprises over 300 agencies with more than 6,000 elite travel specialists in 22 countries in North and South America, the Caribbean, Australia and New Zealand, as well as over 1,000 of the world's best travel providers and premier destinations. Independent travel agencies receive sales, marketing and technology support, as well as exclusive services and products, as a result of their membership in Virtuoso. The network's member agencies generate over $5.1 billion annually in travel sales, making the group the most powerful in the luxury travel segment. Their relationship with the finest travel companies provide the network's affluent clientele with exclusive amenities, rare experiences and privileged access. Virtuoso is the exclusive network of travel related services and benefits provided by MasterCard to World Elite® MasterCard® cardholders. For more information, please visit http://www.virtuoso.com.
About Waldorf Astoria Hotels & Resorts
WALDORF ASTORIA is Hilton Worldwide's luxury brand of landmark hotels, with each one as singular and timeless as the brand's namesake, The Waldorf=Astoria Hotel in New York. From classic elegance to modern grandeur, Waldorf Astoria Hotels & Resorts and Waldorf Astoria Collection hotels each represent worldly sophistication and unparalleled guest service. From sumptuous spas and culinary excellence to world-class golf, each hotel & resort offers the exquisite accommodations and signature accoutrements that define refinement and sophistication. Discover Waldorf Astoria by visiting http://www.waldorfastoria.com.
About Hilton Worldwide
Hilton Worldwide is the leading global hospitality company, spanning the lodging sector from luxurious full-service hotels and resorts to extended-stay suites and mid-priced hotels. For more than 90 years, Hilton Worldwide has been offering business and leisure travelers the finest in accommodations, service, amenities and value. The company is dedicated to continuing its tradition of providing exceptional guest experiences across its global brands. Its brands are comprised of more than 3,500 hotels in 81 countries and include Waldorf Astoria Hotels & Resorts, Conrad Hotels & Resorts, Hilton, Doubletree, Embassy Suites Hotels, Hilton Garden Inn, Hampton Hotels, Homewood Suites by Hilton, Home2 Suites by Hilton and Hilton Grand Vacations. The company also manages the world-class guest reward program Hilton HHonors®.
For more information about the company, please visit http://www.hiltonworldwide.com.
###