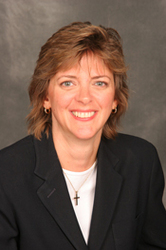 We have found at Orlando Regional Medical Center, each physician has different ways they like to be contacted
Knoxville, TN (PRWEB) February 2, 2011
The Joint Commission has cited communication breakdown as the single greatest contributing factor to sentinel events and delays in care in U.S. hospitals. For nurses, the challenges they have in the process of contacting physicians are frequent and frustrating.
Anne Peach, vice president of nursing at Orlando Health, and Beth Rudloff, chief operating officer at M.D. Anderson Cancer Center Orlando, discuss the challenges nurses have in contacting physicians, and why improving clinical communications is key to increasing nurse time at the bedside, nursing satisfaction, and documentation.
"We have found at Orlando Regional Medical Center, each physician has different ways they like to be contacted," said Rudloff. "Since there are so many different ways you can communicate with doctors--texting, cell phone, sending a message through a Web site--we had many different numbers and preferences for physicians. It was hard for the nursing staff to keep it updated and accurate to know how to get a hold of any physician."
When you consider that a 300-bed hospital contacts physicians, on average, about 180,000 times each year--or 500 times a day--it's no surprise that some of these interactions could be problematic.
"I've been a nurse for over 30 years. In the old days, every physician had a pager, and you had their pager number and maybe their home number and that was it," said Peach. "Now, there's so much technology, it's really a challenge to reach a physician because every physician does something a little different."
The source of errors, delays and miscommunications often can be traced to hospitals' antiquated methods for managing the contact process with physicians. Many departments still have multiple binders and Rolodex's with page after page of physician names, phone, pager, office and answering service numbers, preferred methods of contact, call schedules, alternative physicians to contact, etc.
"Everyone has a different version of how they want to be reached, and we don't always know all their contact rules, because the rules change," said Rudloff. "It's incredibly time consuming in our old system to contact physicians. And then you have to be readily available for when they do respond."
Orlando Health recently selected PerfectServe to help improve communications among its caregivers. "PerfectServe allows clinicians to be in touch with each other faster," said Rudloff. "From a nursing standpoint, it's wonderful because the amount of time staff will take trying to locate physicians is much shorter."
Faster, more accurate communications among clinicians provides obvious benefits related to patient safety and risk reduction. In time-critical situations, nurses and clinicians no longer must waste minutes and even hours trying to reach a physician, arrange for consults or bring together various members of care-giving teams.
"PerfectServe is really going to streamline the effort for nurses to get a hold of physicians," said Rudloff. "The information will be more accurate too. PerfectServe provides faster communication and it will allow the caregivers to spend more time with the patient."
About Orlando Health
Orlando Health is a $1.7 billion not-for-profit health care organization and a community-based network of hospitals and care centers in the Orlando region that serves more than 1.6 million patients annually. The health system includes the 808-bed Orlando Regional Medical Center and the M.D. Anderson Cancer Center Orlando, the first affiliate of one of the nation's premier cancer centers.
About PerfectServe
PerfectServe offers intelligent voice, online and mobile clinical communication solutions that route calls and messages to the right doctor, at the right time. It gives physicians complete control over the communications they receive while enabling hospital clinicians to expedite and improve care coordination. Based in Knoxville, Tenn., PerfectServe processes more than 30 million clinical communication interactions each year involving more than 15,000 physicians in 154 markets across the U.S. For more information, visit http://www.perfectserve.com.