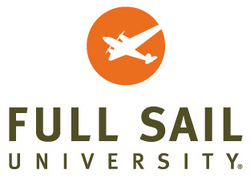 "We are proud to announce that Full Sail University has joined our Magic family of corporate partners," Orlando Magic President Alex Martins said.
Orlando, FL (PRWEB) February 18, 2011
Orlando Magic and Full Sail University are proud to announce their new partnership, which includes opportunities for Full Sail student and staff collaborations inside the new Amway Center. Content from Full Sail University will appear on Magic TV during Orlando Magic home games and special events, as well as on OrlandoMagic.com, the team's official website.
The partnership includes content created by Full Sail students, graduates and staff, including motion graphics, graphic design and custom video content featuring Full Sail branding located throughout several areas in the new Amway Center.
"We are proud to announce that Full Sail University has joined our Magic family of corporate partners," Orlando Magic President Alex Martins said. "The Magic's partnership with Full Sail University will help enhance the in-game experience for our fans while also utilizing and displaying all of the Amway Center's technologically-advanced features."
"Introducing this new partnership is a natural extension of both Full Sail University and the Orlando Magic's commitment to community building in Central Florida," said Josh Mora, program director of Full Sail's Sports Marketing & Media degree. "It is a tremendous honor to be a part of this new relationship, as we look forward to providing our students with unique educational opportunities centered around the Magic's phenomenal organization."
Prior to select games, Full Sail University will have a presence at Fan Fest, located outside the Disney Atrium at Amway Center. Full Sail University students, staff and graduates will also be given the opportunity to audition to sing the National Anthem prior to an Orlando Magic home game this season.
About Full Sail University
Since 1979, Full Sail University has been an innovative educational leader for those pursuing careers in the entertainment industry. With over 34,500 alumni, graduate credits include work on OSCAR®, Emmy® and GRAMMY®-winning projects, best-selling video games, and #1 grossing U.S. concert tours. Full Sail's 191-acre campus and online education platform proudly welcomes over 13,000 students from 50 states and 49 countries. Full Sail currently offers a total of 33 Associate, Bachelor, and Master campus and online degree programs including: Computer Animation, Creative Writing for Entertainment, Digital Arts & Design, Digital Cinematography, Education Media Design & Technology, Entertainment Business, Film, Game Art, Game Design, Game Development, Graphic Design, Internet Marketing, Media Design, Mobile Development, Music Business, Music Production, New Media Journalism, Recording Arts, Recording Engineering, Show Production, Sports Marketing & Media, and Web Design & Development. Full Sail was named the 2008 "School/College of the Year" by the Florida Association of Postsecondary Schools and Colleges; The Harvard of Game Schools by Tips & Tricks Magazine; one of the top three New Media Schools by Shift Magazine; one of the Top Five Game Degree Programs in the world by Electronic Gaming Monthly; one of the Best Music Programs in the country by Rolling Stone Magazine; and one of the Best Film Programs in the country by UNleashed Magazine. For more information about Full Sail, please visit http://www.fullsail.edu.
About the Amway Center
The Orlando Magic served as the developer of the Amway Center, which will host major national events, concerts and family shows. Opened in the fall of 2010, the facility is owned and operated by the City of Orlando on behalf of the Central Florida Community. The Amway Center was designed to reflect the character of the community, meet the goals of the users and build on the legacy of sports and entertainment in Orlando. The building's exterior features a modern blend of glass and metal materials, along with ever-changing graphics via a monumental wall along one façade. A 180-foot tall tower serves as a beacon amid the downtown skyline. At 875,000 square feet, the new arena is almost triple the size of the old Amway Arena (367,000 square feet). The building features a sustainable, environmentally-friendly design and unmatched technology, featuring 1,100 digital monitors, the tallest high-definition videoboard in an NBA venue and multiple premium amenities available to all patrons in the building.
Every level of ticket buyer will have access to: the Budweiser Baseline Bar and food court, Gentleman Jack Terrace, Jernigan's, Nutrilite Magic Fan Experience and Orlando on Demand, STUFF's Magic Castle kid's zone presented by CLUB WYNDHAM® and multiple indoor-outdoor spaces which celebrate Florida's climate.
###