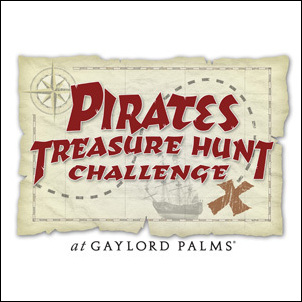 Activities such as the Gaylord Palms Pirates Treasure Hunt Challenge are the natural progression of these trends
Orlando, Fla. (PRWEB) March 27, 2007
Gaylord Palms Resort is giving Memorial Day weekend visitors a opportunity to compete for a treasure of $10,000 in cold cash. This interactive family experience, called the Pirates Treasure Hunt Challenge, will be offered May 25-28, 2007. This unique holiday package is timed to coincide with an anticipated swell in "pirate mania" throughout the nation.
Pirates Treasure Hunt Challenge is a contest of skill that will give package guests an opportunity to act and think like pirates as they traverse the resort and decipher clever clues, solve intricate puzzles, and perform other "piratey" tasks for a panel of judges. At the end of the holiday weekend, the family who accumulates the greatest number of points during their treasure hunt challenge will claim the $10,000 pirate's prize.
The Pirates Treasure Hunt Challenge room package is $199 per night plus tax and parking. The package, which must be purchased for a minimum of two nights, includes deluxe accommodations, resort fee, a treasure hunt kit, and access to special activities and skill contests related to the Pirates Treasure Hunt Challenge.
"This is not your ordinary Memorial Day Weekend experience," said Kemp Gallineau, general manager. "But then again, we're not your ordinary Florida resort, either."
The Pirates Treasure Hunt Challenge unfolds over two days, and can easily be combined with visits to Orlando's world-famous theme parks and attractions. Some tasks will be appropriate for family members to tackle together, while others will challenge even the most creative of adults.
Pirates Treasure Hunt Challenge package guests also have the opportunity to purchase additional themed experiences, like:
-- Buccaneer's Barbecue: a swashbuckling pirate-filled outdoor banquet featuring barbecue and brouhaha.
-- Camp Pirate: pirate-themed arts and crafts sessions held at the on-site La Petite Academy Kids Station, reserved for our guests ages 5-13.
To make a reservation, or to receive more information about Pirates Treasure Hunt Challenge, call 407-586-HUNT, or visit http://www.GaylordTreasureHunt.com . Package guests can check into the hotel on Friday May 25 or Saturday May 26. A minimum two-night stay is required. For official rules, guests can visit http://www.GaylordTreasureHunt.com/rules .
Pirates have always held a prominent place in popular culture. But due to the success of Disney's "Pirates of the Caribbean" movie franchise, these swashbucklers have enjoyed newfound popularity. Since the original installment debuted in 2003, interest in pirates has catapulted. For instance, 'pirate costumes' was the most popular costume-specific Halloween search term in 2006, capturing 24 percent of all search terms containing the word costume, according to Hitwise, a leading online competitive intelligence service.
In addition, hit reality television shows like "Survivor," "The Amazing Race" and "Treasure Hunters" and movies like "National Treasure" have increased the appeal of scavenger hunts to the family audience.
"Activities such as the Gaylord Palms Pirates Treasure Hunt Challenge are the natural progression of these trends," said Gallineau. "They give families a safe and controlled way to put themselves in the middle of the action while competing for their own treasure -- just as they have seen on television or in the movies."
Pirates Treasure Hunt Challenge is part of Best of Florida LIVE!, an ongoing Gaylord Palms exhibition that celebrates the history, events, creatures and habitats of the Sunshine State. Because Spain used the state as a staging area for convoys, pirates played a noteworthy role in Florida past. These pirates preyed upon the treasure-rich Spanish fleets that sailed the waters near Florida. In fact, the state is home to the Gasparilla Pirate Fest in Tampa, a long-running Florida festival that celebrates these infamous visitors.
Gaylord Palms Resort features a soaring 4.5-acre glass-covered atrium that celebrates the best of Florida, including the destinations of St. Augustine, Key West, and the Everglades. Inside the atriums, guests can encounter live alligators and other native creatures, enjoy amazing landscapes, visit innovative shops, dine at award-winning restaurants and participate in on-site entertainment. In addition, complimentary shuttle service is offered to Orlando's world-famous theme parks and attractions.
About Gaylord Palms
Gaylord Palms Resort & Convention Center has gained the attention of the meeting and convention industry by providing world-class convention and leisure-focused amenities -- all in one place. The award-winning Gaylord Palms is a Gaylord Hotels-branded property owned by http://www.gaylordentertainment.com (NYSE: GET), a leading hospitality and entertainment company based in Nashville, Tenn. For more information, visit http://www.gaylordpalms.com or http://www.gaylordtreasurehunt.com
# # #