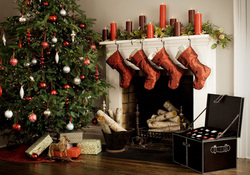 We're often told by customers that the real items are even more attractive than what was portrayed online.
New York, NY (PRWEB) February 26, 2008
Thanks to steady online sales and strong growth during its first holiday season, Sterling Pear, a luxury brand of ornament storage boxes and sophisticated holiday decor, is now ready to launch a new wholesale program for 2008, thus opening the door for appropriate retail stores to carry the Sterling Pear line.
Sterling Pear attributes its growth to the current consumer interest in organizational products. Of its product line, Sterling Pear received strongest consumer enthusiasm for its exclusive ornament storage boxes, considered luxurious storage showpieces for treasured heirlooms and collectibles.
Up until now Sterling Pear exclusively sold their products direct to consumers through their online store, http://www.sterlingpear.com. Extending their sales channel to the wholesale market is the next logical step for Sterling Pear, who aims to expand the reach of their products to a wider market.
Although overall online spending in the U.S. rose 21 percent in 2007 versus 2006, studies show that a significant percent of consumers still prefer to shop in stores. Sterling Pear hopes that selling in retail stores will reach new customers that otherwise wouldn't be inclined to shop online. "We hope to become more accessible to consumers in whatever shopping experience is most comfortable and convenient to them," said Janet Hayden, co-founder and CEO of Sterling Pear.
Additionally, among those consumers who have avoided online purchases, 42 percent said they prefer to see the item before buying. "Selling our ornament storage boxes through retail stores in 2008 will be a great benefit to our customers, allowing them to see our products in person and physically handle them before purchasing the product," Hayden said. "We're often told by customers that the real items are even more attractive than what was portrayed online."
Sterling Pear plans to carefully select appropriate retailers that fit with its upscale reputation and sophisticated customer base. Retailers interested in being considered as distributors of Sterling Pear products may contact the company directly by calling (866) 930-PEAR or by emailing wholesale@sterlingpear.com.
In addition to its ornament storage boxes, Sterling Pear has designed matching Christmas linens and other elegant home decorating items. Sterling Pear is the premier holiday source for both sophisticated design and ease of use, which is encompassed in Sterling Pear's slogan, "Holiday elegance made simple." The entire line of Sterling Pear products is available for purchase by consumers at http://www.sterlingpear.com.
###