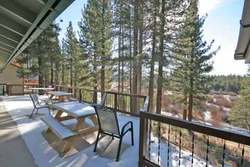 "We have been working really hard on this project and I must say it looks great!"- Charles Seidel (Owner)
San Francisco, CA (PRWEB) December 2, 2009
It took Charles and contractors, two full months and lots of hard work to complete, but the South Lake Tahoe Ormsby vacation rental home really looks great. "We made several major improvements that we hope all of our guests will enjoy" says Charles Seidel. With many residential homes in South Lake Tahoe hit by foreclosures in today's down market, it is great to see a man with hope of better days to come. Charles brought in a brand new luxurious hot tub that is nestled close to the house and it has a great wilderness views. "Having a hot tub at your Tahoe vacation rental is a must have" says Charles " especially after a long day on the slopes".
Charles also added stunning travertine flooring with radiant heating, so "even if you forget to bring your slippers your toes will stay nice and warm." There are new TV's and ipod speakers to the living area along with a fresh coat of paint and track lighting. The kitchen got an overhaul including a new stovetop, dishwasher and refrigerator. Charles also remodeled the bathrooms and brought in some great new furniture and décor.
This Lake Tahoe vacation rental house is just minutes away from Heavenly Ski Resort and all the great shopping, restaurants, and of course the casinos that South Lake Tahoe has to offer. For more information or to make a reservation at one of Charles's vacation rentals visit him at: http://www.tahoehouse.net.
###