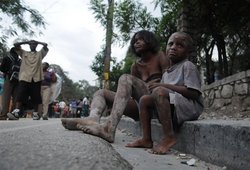 You'll Be In My Heart
Sanford, FL (Vocus) April 1, 2010
MREUSA, a division of MRE Logistics announced today the release of a music video, "You'll Be In My Heart", a song for Haiti's orphans on: helpfortheorphans channel on YOU TUBE http://www.youtube.com/watch?v=gLJJqA4iYnA , to bring attention to it's program to give MRE's (Meals Ready to Eat) to orphans in Haiti.
The week after the earthquake MREUSA provided The Church of Scientology 32,000 meals to be shipped to Haiti, of which John Travolta personally delivered the first 3,600 along with medical supplies and equipment in his private jet.
The company's Director of Operations, Ken Lester Sr., stated, "We are very committed to helping Haiti, and in particular the over 100,000 new orphans there, many of who are eating only twice per week". "We have a network on the ground there to get the MRE's directly from the dock to the orphanages". "The MRE's are perfect for the children, as they provide excellent nutrition, can be stored without refrigeration, and do not require a heating source, as they are already fully cooked in their protective pouches". "People cannot forget that it will take time and effort to help these children".
MRE USA is donating over 20,000 meals to be delivered the first part of April. These meals will be distributed to many orphanages throughout the country.
On Ken Sr.'s last visit to Haiti; it was revealed that much of the International food relief has not gotten to the orphanages. His hope is to deliver at least 200,000 meals per month, until the orphanages can get a better hold on the overwhelming situation.
Those interested can go to http://www.mreusa.com and sponsor a single meal, or as many as they wish, to be delivered to a child. The organization enlisted the volunteer services of singer/songwriter Randall Richards, who recorded for A&M Records in the 70's, and wrote songs for Anne Murray, Frankie Vallie, The Hollies, Eddie Kendricks, Marilyn McCoo, and others. His singing career was cut short due to health reasons. In recent years, he has been working with AIDS orphans in Africa.
Randall has come back from over 30 years out of the entertainment industry to help the orphans in Haiti by producing and singing the music video. As part of the MRE USA team He has traveled to visit the orphans in Haiti since the quake, and will continue to go back at least once per month to personally help in the delivering of the MRE's.
The Film School at Valencia Community College under the direction of program chair, Ralph Clemente, also donated services and crew to make the music video and a documentary on the orphan situation in Haiti.
For interviews contact: Randall Richards 386-785-9229 or Ken Lester 407-403-3899
Email: r_richards_2000(at)yahoo(dot)com Email: kennethtlester(at)yahoo(dot)com
###