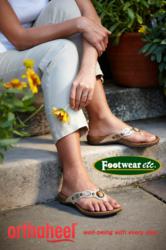 "Once someone experiences the support and comfort of Orthaheel they are reluctant to wear anything else!"
Sunnyvale, CA (PRWEB) March 22, 2012
Footwear, etc. welcomes spring by introducing new styles of Orthaheel flip flops, slides, and sandals. For casual as well as dressy wear, these shoes give you a greater variety of opportunities to wear the most supportive and comfortable flip flops and other sandals you'll ever try. Customer responses for these shoes have been extremely positive.
Designed by podiatrists and endorsed by well-known pioneer of integrative medicine, Dr. Andrew Weil, Orthaheels provide a stylish yet supportive alternative to the typical summer flip flops and sandals. Dr. Weil believes in a whole-body approach to wellness, and feels that Orthaheel products will dramatically help people achieve that goal. Orthaheels emulate walking on natural surfaces and restore the foot's natural alignment, which improves hip alignment and knee function. They also reduce excess pronation – which can lead to flat feet. The deep heel cup provides exceptional support and can benefit those of us with arch issues or even plantar fasciitis.
Director of Store Operations Andrew Monarch adds, "We are very excited about the continued growth and popularity of the Orthaheel brand. Our customers just love the new spring styles. Once someone experiences the support and comfort of Orthaheel they are reluctant to wear anything else!" Orthaheel is so confident that you'll love their products, it offers a 30-day money back guarantee if you're not satisfied – even if the shoes have been worn outside.
New Orthaheel sandals include the women's Louisa, which is available in black leather. A beautiful new flip flop is the Women's Talia, containing an attractive flower on the upper, and which is available in Chocolate, Black, Camel, and Pink. New Orthaheel shoes include the Walker, a black fitness shoe that is available for both men and women. Even the Unisex Kiwi Slide has been updated to include several new color choices. Many other new Orthaheels are available as well, and existing models have been updated with exciting new colors. These models join the Orthaheel family with their outstanding support and attractive styling.
The entire Orthaheel Spring Collection is available now online at footwearetc.com and at their retail store locations in Northern California and San Diego.
About Footwear etc.:
Footwear etc. is a well-established, family-owned business, headquartered in Silicon Valley, CA since 1986. The company is committed to improving customers' quality of life by offering brand name products that demonstrate their belief in the need for healthful, comfortable and fashionable footwear. Footwear etc. operates nine retail stores located throughout the Bay Area and San Diego, and also offers their products on their website and catalog. To find out more, please visit footwearetc.com.