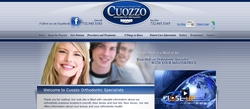 Sea Girt, NJ (Vocus) August 3, 2010
New Jersey Monthly Magazine has selected Dr. Patrick T. Cuozzo as one of the Top Orthodontists in New Jersey. The survey was conducted for the New Jersey magazine by the independent Polling Institute at Monmouth University in West Long Beach. The results were compiled from the responses to a one-page questionnaire that was sent to the 6,435 dentists in New Jersey that have been licensed for at least five years. The 2010 Top Dentist list represents dentists from nine specialties as selected by their New Jersey dental peers.
At his New Jersey orthodontics practice, started by his father who was also a successful New Jersey orthodontist, Dr. Cuozzo says choosing a qualified orthodontic specialist is one of the most important factors to consider when deciding who to trust with a family's orthodontic care. He adds that seeking treatment from an orthodontic specialist means his patients are recognizing the fact that he has had specialized training in an accredited orthodontic residency program, and is not merely a general dentist practicing orthodontics.
In addition to the advanced specialty training, a contributing factor that led to Dr. Cuozzo being voted among one of the best New Jersey orthodontists includes his membership in the American Association of Orthodontics, which monitors the specialized training an orthodontist must complete. With a wide variety of orthodontic procedures available at Cuozzo Orthodontic Specialists, including Invisalign® in New Jersey, Dr. Cuozzo says his inclusion in the 2010 Top Dentist list reflects his dedication to his surrounding community and desire to address the dental health of each of his neighbors.
About Dr. Cuozzo
Dr. Patrick T. Cuozzo earned his Doctor of Dental Surgery degree from the University of Maryland Dental School. Upon completion of his DDS degree, he continued his education at Penn where he received Certification as an Orthodontic Specialist. In order to provide the highest level of certification for his patients, Dr. Patrick Cuozzo has earned his board-certification as an orthodontist with the American Board of Orthodontics.
Dr. Cuozzo and his Orthodontic Specialists have two locations, at 4 Swimming River Road in Lincroft, NJ 07738, which can be reached at (732) 945-5343; and 548 Washington Rd. in Sea Girt, NJ 08750, which can be reached at (732) 945-5345. Both locations can be reached at http://www.4straightteeth.com/
###