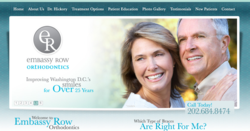 (PRWEB) June 02, 2011
Dr. Wayne Hickory is a Washington DC orthodontist, who has dedicated 25 years to improving the form and function of his patients' teeth. He and the Embassy Row Orthodontics team are announcing the launch of a new website designed to enhance their patients' online experience. Dr. Hickory adds that he hopes to provide a comprehensive overview of the practice itself, which is why including a doctor biography and before-and-after galleries as patients review the detailed descriptions of each procedure was important to him during the website design process.
The Embassy Row Orthodontics team is dedicated to providing their patients with the latest orthodontic treatment available. In collaboration with dental website design firm Rosemont Media, Dr. Wayne Hickory says he believes he has matched this drive for the cutting-edge of orthodontics by utilizing the latest innovations in graphic design, content, and search engine marketing strategies to create a new website for patients to enjoy a comprehensive virtual look inside his practice. Dr. Hickory adds that creating a positive patient experience with safe and effective orthodontic treatment is his top priority.
One factor Dr. Hickory says plays an integral role in his ability to create positive experiences is the formation and support of his online community, in particular that which exists on Facebook. By fostering the growth of a quality, engaged social network centered on his practice, Dr. Hickory says he believes the connection between patient and dentist is further strengthened. Ultimately, Dr. Hickory says he and his team remain committed to providing the best orthodontic care possible, and the new website enhances their ability to carry out that goal.
About Dr. Hickory
Dr. Wayne Hickory earned his dental degree from the University of Connecticut School of Dental Medicine. He then completed three years of postdoctoral training in orthodontics, as well as a Masters of Dental Science. The Embassy Row Orthodontics practice is a leader in digital orthodontics, as well as the latest orthodontic treatments, such as Invisalign®, SureSmile™, OrthoCad, and Incognito™.
Embassy Row Orthodontics is located at 2132 R. St. NW in Washington, DC 20008, and can be reached at (202) 684-8474, or found online at http://www.embassyrowortho.com, or the Embassy Row Orthodontics Facebook page.
###