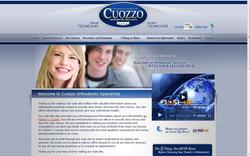 Lincroft, NJ (Vocus) February 10, 2010
Dr. Pat Cuozzo has spent his career helping children and adults straighten their teeth, correct overbites, and fix imperfections that can ultimately improve what's often thought of as a person's first impression: their smile. Director of Cuozzo Orthodontic Specialists, a practice offering Monmouth County residents specialized orthodontic treatment in New Jersey, Dr. Cuozzo not only takes advantage of the improving and ever-evolving methods of orthodontic care – he also is intent on educating dental care professionals, and even the public at large, on how they can achieve straighter teeth at any age with a variety of new treatments that are more discreet than traditional techniques.
At a recent seminar for the Jersey Coast Dental Forum, Dr. Cuozzo lectured a group of 85 dental hygienists on the best practice for oral hygiene with braces, and, in the future, hopes to lend his expertise on some of the latest advances in orthodontics such as temporary anchorage devices and self-litigating (frictionless) braces. Dr. Cuozzo says that orthodontic treatment has evolved at a rapid pace over the years. Far from the effective, yet cumbersome traditional metal braces, Dr. Cuozzo says advances in orthodontics have made it possible for people to straighten their teeth without others even knowing they're undergoing treatment. Offering procedures such as lingual braces and Invisalign® clear teeth aligners in New Jersey, Dr. Cuozzo believes one of the most important aspects for orthodontists and dental health professionals to focus on is keeping abreast of new technologies designed to make treatment safer and more comfortable for patients of all ages.
In addition to providing other dental professionals with orthodontic continuing education in New Jersey, Dr. Cuozzo also says he wants to provide lecture series to various public organizations, such as the PTA. Dr. Cuozzo believes educating parents and adolescents on the benefits of proper oral hygiene and the correction of teeth misalignment and over- or underbites can not only help individuals with common dental issues, they may also provide a boost to their self-esteem by ultimately leading to a beautiful and healthy set of teeth.
Which can be enough to make anyone smile.
About Dr. Pat Cuozzo
Dr. Patrick T. Cuozzo is a board-certified New Jersey orthodontist. He is a third-generation dental professional, and serves on the orthodontics faculty at the University of Pennsylvania School of Dental Medicine as an associate professor. Dr. Cuozzo's advocacy for the specialized field of orthodontics has led to repeated recognition in the Guide to America's Top Dentists. He has also repeatedly earned a spot as one of New Jersey's Top 10 Orthodontic Specialists. Dr. Cuozzo is a respected educator and a professor of the American Board of Orthodontics, as well as an advisor and lecturer for the Jersey Coast Dental Forum. He is a member of the American Association of Orthodontists, the New Jersey Association of Orthodontists, and the American Dental Association. Established by Dr. Cuozzo's father and formal NFL quarterback Dr. Gary Cuozzo in 1972, he joined Cuozzo Orthodontic Specialists in 1997, helping his dad build a facility offering the most advanced orthodontic treatment available.
For more information on Dr. Pat Cuozzo and his availability for continuing orthodontic education seminars, the practice can be reached at 4 Swimming River Road, Lincroft, NJ 07738 – (732) 747-3466; or at 548 Washington Blvd., Sea Girt, NJ 08750 – (732) 449-5444.
###