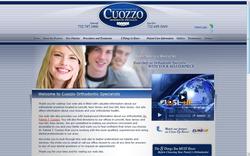 Lincroft, NJ (Vocus) April 23, 2009
A Monmouth County, New Jersey orthodontics practice is giving its website its very own 'smile makeover'. http://www.4straightteeth.com is the newest incarnation of Cuozzo Orthodontic Specialists, a comprehensive orthodontic practice with two New Jersey locations, in Lincroft and Sea Girt, offering a number of advanced treatments to straighten teeth. The new site allows Dr. Patrick T. Cuozzo to reach out to the community in a new way, essentially providing a virtual tour of his practice with internet video documentaries, detailed procedure information pages, and before-and-after gallery images of successful results.
Working in collaboration with a top medical and dental website design firm, Dr. Cuozzo (or Dr. Pat, as his patients refer to him) has developed a user-friendly site that is focused on giving visitors a comprehensive view of the orthodontic treatments available, providing details on what you should know before undergoing treatment, information on what orthodontics can do for you and how each process works, and a visual guide to Cuozzo Orthodontic Specialists.
With the advent of revolutionary new methods to straighten teeth and correct overbites, Dr. Pat's new website reflects his experience and skills with these procedures as well as giving patients both new and old some of the educational tools they may need when receiving treatment. The website also breaks down information by age, giving parents details about child orthodontics and adults information about the latest in teeth-straightening treatments that don't have to involve metal braces. For instance, patients considering Invisalign® in New Jersey can learn how they can achieve straighter teeth with a system of clear teeth aligners that are removable and virtually invisible to others.
About Dr. Pat Cuozzo
Dr. Patrick T. Cuozzo is a board-certified New Jersey orthodontist, and a member of the American Dental Association, the American Association of Orthodontists and the New Jersey Association of Orthodontists. He has been recognized several times as one of New Jersey's Top 10 Orthodontic Specialists and has earned repeated listings in the Guide to America's Top Dentists. Dr. Pat is a third-generation dental professional, and serves as an associate professor on the orthodontics faculty at the University of Pennsylvania School of Dental Medicine. Cuozzo Orthodontics was established by Dr. Pat's father and former NFL quarterback Dr. Gary Cuozzo in 1972. Dr. Pat joined the family practice in 1997, working alongside his dad to build a facility offering the most advanced orthodontic treatment available.
For more information on Cuozzo Orthodontic Specialists, the practice can be reached at 4 Swimming River Road, Lincroft, NJ 07738 – (732) 747-3466; or at 548 Washington Blvd., Sea Girt, NJ 08750 – (732) 449-5444.
Rosemont Media offers a comprehensive dental website design portfolio. They can be reached at (800) 491-8623.
###