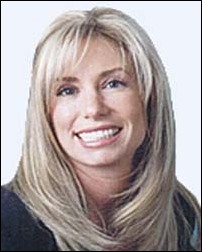 Though I am not able to disclose the celebrities and personalities that I have worked with, I can tell you that there are certain people on television and the movies who have absolutely benefited from contemporary orthodontics
New York, NY (PRWEB) January 16, 2007
Dr. Jacqueline Fulop-Goodling, (http://www.DrJackieSmiles.com) New York Orthodontist and Invisalign invisible braces specialist and Invisalign's National Spokesperson, is not your ordinary dental orthodontist. She is a healthcare professional who truly wants her patients to look and feel their very best. "Straight teeth and a beautiful smile is not what it's all about," proclaims the youthful effervescent doctor. Standing 5'7" tall in her lab coat and long blonde hair, Dr. Fulop Goodling knows all about the psychology behind a person's appearance. "We treat men and women of all ages for many different reasons," continues Fulop-Goodling. "The confident person is the successful person. Helping people attain the highest level of accomplishment is what makes my professional life so meaningful."
Located in midtown Manhattan and so close to Grand Central Station, Fulop-Goodling treats many professionals in Fortune 500 companies, investment banks and corporate finance. Many employees at Goldman Sachs, JP Morgan, Lehman Brothers, Citibank, Citigroup, Morgan Stanley, Credit Suisse, Pfizer, Colgate Palmolive and PricewaterhouseCoopers have Dr. Fulop-Goodling in their Blackberry, Treo and Palm Pilot PDA's. Professionals seeking promotions or new jobs are absolutely judged by their appearance. A healthy smile, straight teeth and a confident outlook will get someone the job over the competitor that does not possess those qualities. Being at the top of her field, of course Dr. Fulop-Goodling treats celebrities, actors and actresses, but the everyday professional who needs to look good on the job or for that special once in a lifetime event such as their wedding is where she really feels she helps people.
Spoken like a woman wise beyond her years, Fulop Goodling sites examples of people she has treated with an Invisalign treatment that has made a difference in their lives. The first example is the bride and groom to be who want to radiate their smiles on their wedding day. A picture is worth a thousand words and according to Fulop-Goodling, the bright smile is the picture of health that really shines in a couples wedding pictures and wedding video. When someone looks back on their wedding day and sees a big smile, it becomes a meaningful memory that lasts forever. "People come to me because they know that within three to six months before a big event such as a wedding, they have the opportunity to get straight teeth without the pain and hassle of wearing adult braces in their busy professional lives."
The number one reason why people do not bother with their teeth after a certain age is because they get caught up in their business lives. People can not even fathom getting their crooked teeth straightened, overbites fixed or having braces in their workplace while speaking in public, delivering presentations, or greeting customers in any work environment. "There is a common myth even today in our society that the only way to get straight teeth is with the traditional old clunky metal braces," explains Fulop-Goodling. "Invisalign has done an excellent marketing job over the past years but we still have work to do."
One segment of the population that has really benefited from Invisalign's new clear braces are actors, actresses, celebrities and people with high public profiles. "Though I am not able to disclose the celebrities and personalities that I have worked with, I can tell you that there are certain people on television and the movies who have absolutely benefited from contemporary orthodontics," Fulop-Goodling adds proudly.
The secret is in the technology. Invisalign is very affordable and has even announced in a recent press release that they will cover doctors and patients impacted by competitor OrthoClear, Inc.'s decision to cease business operations as part of a legal settlement with Align Technology (Invisalign's creator). Now everyone can afford straight teeth and a beautiful smile, not just the rich and famous.
Kids and teenagers are also judged by their peers and this can affect their overall performance in school and in social circles. Now these teenagers and young adults are able to be seen in a different light. Self confidence and positive attitude are very related to this most crucial period in a young persons life. Social development has increasingly been on the radar of our educators in our day and age. Orthodontics has been a major contributor to helping kids reclaim youthful innocence and carefree living. Dr. Fulop-Goodling's friendly staff and inviting office are also a major attraction to parents looking for braces for their children.
With offices in New York City and Woodbury, Long Island, Dr. Fulop Goodling is able to treat patients from all over the NY Tri-State area. People come as far as Northern Connecticut, Southern New Jersey and Philadelphia, Pennsylvania to see her especially because of her reputation throughout North America.
After Dr. Jacqueline Fulop-Goodling completed her DMD degree and orthodontic residency at Boston University School of Dental Medicine in 1996, she assumed a professorship at her alma mater becoming the first female Director of the Pre-doctoral Orthodontic Department. Dr. Fulop-Goodling has taught over 500 students world-wide and more than 1200 dentists in multiple areas of orthodontics. She has several U.S. and International patents issued of which two are dentally related.
In January of 2005, Dr. Fulop-Goodling was selected to Invisalign's National Speaker's Bureau. In September 2005, she became Invisalign's National Spokesperson for an improved hygiene campaign.
Dr. Fulop-Goodling is a member of the American Association of Orthodontists and the World Federation of Orthodontists. She co-founded the Female Dental Academy of Long Island and is a member and has helped organize several local dental study clubs in NY. Her Manhattan, NYC orthodontist practice is on 40th Street between Park and Madison Avenues. Dr. Fulop-Goodling's Long Island orthodontist office is located at 40 Crossways Park Drive, Woodbury. This office serves Syosset, Huntington, Plainview, Dix Hills, Jericho, and all of Nassau and Suffolk County.
Invisalign® is the invisible way to straighten your teeth without braces. Invisalign® uses a series of clear removable aligners to straighten your teeth without metal wires or brackets. Invisalign® has been proven effective in clinical research and in orthodontic practices throughout America. Their website can be found at Invisalign.com.
This press release has been distributed by SalemGlobal Internet Website Marketing and Consulting. SalemGlobal optimizes websites to increase traffic from search engines and improves conversion of site visitors to buyers. Other website services include e-commerce solutions, content management solutions, interactive public relations, website hosting, website design and maintenance. SalemGlobal Internet can be found on the world wide web at SalemGlobal.com. For more information, please contact Raphi Salem at 646-217-4733.
###