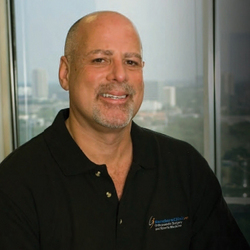 On the first day he operated at our hospital, you could feel the electricity that followed Dr. Sanders throughout the day. We are so blessed to have such a distinguished physician as our Chief of Orthopedics
Houston, Texas (PRWEB) October 24, 2007
Known as the sports medicine doctor to action sports athletes and official healthcare provider of the Houston Supercross, renowned board certified orthopedic surgeon Dr. Mark Sanders of the Sanders Clinic for Orthopaedic Surgery and Sports Medicine was recently named Chief of Orthopedic Surgery for Surgery Specialty Hospitals of America, Southeast Houston Campus, in Pasadena, Texas.
Having earned a reputation as Houston's leading action sports doctor, who has helped return athletes from across the United States back to their sport faster with his advanced ACL procedures and accelerated rehabilitation program, Dr. Sanders is expected to increase the number of out of town patients the facility treats.
And a unique program established by the facility specifically for Dr. Sanders now enables him to facilitate travel of those out of town patients seeking his consultation and care.
According to Dr. Sanders, the new program will enable him to see injured athletes and non athletes alike from anywhere in the United States - supplementing travel costs and out of town accommodations in order to ensure that his accelerated rehabilitation and treatment programs are accessible to every patient seeking them.
Hospital administrators hope that Dr. Sanders and the new program will increase the number of out of town patients the facility sees and improve the overall quality of care they are able to offer every patient.
"The addition of Dr. Mark Sanders as the Chief of Orthopedic Surgery at Surgery Specialty Hospitals of America establishes our facility as one of the premier orthopedic surgical hospitals in Houston," said Alan Beauchamp, president of Surgical Specialty Hospitals of America.
"His vast knowledge and experience will ensure that we continue to give quality care to the patient, as he demands that of our staff as well as his own. Dr. Mark Sanders is well known for having wonderful surgical outcomes with his patients. Our hospital could not be more thrilled with the leadership and skill that is associated with Dr. Sanders," Beauchamp added.
Dr. Sanders, who was listed among Houston's Top Docs two years in a row by H Texas magazine and recently named among Health & Fitness magazine's Phenomenal Physicians, began his new position in October and travels between the Sanders Clinic in Houston and the Pasadena facility.
"The staff at Surgical Specialty Hospitals of America was so excited when we learned that Dr. Mark Sanders was coming to our facility. Not only is he highly respected in the Operating Room, but he also is so willing to take the time to teach and explain new orthopedic techniques," said Tonya Johnson, RN, BSN, MSN - CNO/Administrator
"On the first day he operated at our hospital, you could feel the electricity that followed Dr. Sanders throughout the day. We are so blessed to have such a distinguished physician as our Chief of Orthopedics," said Johnson.
To learn more about Dr. Mark Sanders and his treatment options, or to inquire about the out of town patient program, log onto http://www.sandersclinic.net or call 888-8 DR MARK.
###