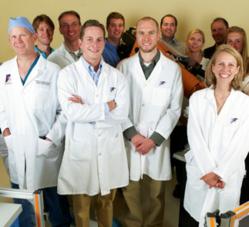 Peer review and publication of clinical and scientific studies certifies the absolute highest standards in the research process have been met.
Vail, CO (PRWEB) October 10, 2012
The Department of BioMedical Engineering at the Steadman Philippon Research Institute (SPRI), a world leader in orthopedic and sports medicine research, reports a record number of research papers published annually by PubMed. PubMed's database is a service of the US National Library of Medicine which publishes peer reviewed and accepted online collections of research studies for the medical community. For 2012, The Department of BioMedical Engineering will have 16 orthopedic studies published, another 7 papers accepted for publication, and 10 papers still in peer review.
Independent, unbiased, critical assessment of medical conditions, treatments, and patient outcomes is integral to validating clinical research. SPRI's orthopedic research studies include injury prevention, clinical observation and assessment in all areas of orthopedic sports medicine. In the field of healthcare, these studies certify that the absolute highest standards in conducting, recording and reporting the research have been met. Once an orthopedic research study is submitted to a professional journal by a research team, a peer review committee scrutinizes it, and only the best papers are accepted for publication. The large number of SPRI studies published in a twelve-month period is an extraordinary accomplishment and the highest indicator of the quality of their research.
Dr. Marc Philippon, orthopedic hip surgeon and sports medicine specialist with The Steadman Clinic in Vail, Colorado stated, "It is not only about the quantity, but also the quality of publications within SPRI that allow for high impact in our orthopedic community. Our publications are accepted to the top journals."
According to Dr. Coen Wijdicks, Director of the Department of BioMedical Engineering at the Steadman Philippon Research Institute, "Peer reviewed publications that incorporate relevant research studies provide a significant credible resource among peers. Because it is published in such a large forum, the result is high impact and captures a large audience."
The Steadman Philippon Research Institute is engaged in various orthopedic research studies throughout the year. In 2012, some of the published studies included:

The effects of arm elevation on the 3-dimensional acromiohumeral distance: a biplane fluoroscopy study with normative data
Anatomic suture anchor versus the brostrom technique for anterior talofibular ligament repair
Femoroacetabular impingement treated with PRP and bone marrow concentrate aspirate in a professional soccer player
Recruitment and activity of the pectineus and piriformis muscles during hip rehabilitation exercises: an electromyography study
The management of injuries to the medial side of the knee
"Without a peer review process for medical research, there would be very little validity to published studies. It is well recognized that peer reviewed publications have gone through vigorous peer review and represent the highest levels of scholarly work. It has always been our goal, and it will continue to be our goal, to plan to publish our orthopedic research studies in the highest level journals starting from the point of initial design of our works," states Dr. Robert LaPrade, Chief Medical Research Officer of the Institute."
In 2011, the Steadman Philippon Research Institute completed construction of its multi-million dollar, state-of-the-art Laboratories and Surgical Skills facilities. The principal goal for these facilities is to understand the demands on joints for certain sports or motions, how injuries occur and how they can be best treated, and to offer physicians, SPRI Fellows, and International Research Scholars the ability to practice current and new surgical techniques in a simulated operating room environment.
About The Steadman Philippon Research Institute
The Steadman Philippon Research Institute (SPRI) is dedicated to keeping people of all ages physically active through orthopaedic research and education in arthritis, healing, rehabilitation, and injury prevention. Founded in 1988 by orthopaedic surgeon Dr. Richard Steadman as the Steadman Sports Medicine Foundation, the 501(c) (3) charitable organization has influenced the practice of orthopedics throughout the world. Based in Vail, Colorado, it has become one of the most published organizations in orthopedic sports medicine research and education.