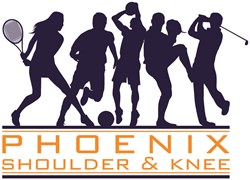 Minimally invasive surgery with Dr. Farber entails less pain and rehab than with open surgery for the shoulder, knee and elbow!
Phoenix, Arizona (PRWEB) December 03, 2013
One of the top orthopedic surgeons in Phoenix, Dr. Adam Farber, is now offering minimally invasive elbow surgery. Dr. Farber is the Medical Director at Phoenix Shoulder and Knee, and is an expert in arthroscopic surgery of the elbow. For more information and scheduling, call (480) 219-3342.
Surgery of the elbow is indicated for conditions such as loose bodies and bone chips, ligament reconstruction, chronic tendinopathies including tennis or golfers elbow, and fractures. Conventional open surgery of the elbow may lead to long recovery periods with continued pain.
As a fellowship trained sports medicine doctor, Dr. Farber specializes in minimally invasive arthroscopic surgery of the elbow, shoulder and knee. Typically with minimally invasive arthroscopic surgery, elbow surgery postoperative recovery times are shorter and the pain is less with the procedure.
Functional range of motion is achieved faster most of the time as well. As an experience elbow surgeon in Phoenix, Dr. Farber is well versed in the arthroscopic procedure.
Dr. Farber is Board Certified by the American Academy of Orthopedic Surgeons and is an orthopedic doctor Phoenix trusts and respects. Most insurances are accepted at the practice and appointments are readily available. Patients are seen from all over the valley due to Dr. Farber's exceptional expertise and bedside manner.
For those suffering elbow pain, Dr. Farber offers extensive nonoperative and operative treatments including cortisone injections, PRP therapy injections, bracing and minimally invasive surgery. For more information and scheduling, call (480) 219-3342.