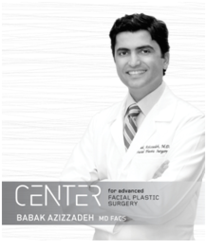 Celebrities always look flawless, but on Oscar night they truly look their best. Whether they just need a little volume boost or a surgical lift, there are a variety of treatments I can perform to help them achieve their desired look
Los Angeles, California (PRWEB) February 10, 2012
Dr. Babak Azizzadeh, a facial plastic surgeon in Beverly Hills, has many celebrity clients and helps them look their best for the Academy Awards. He is revealing which cosmetic procedures are the most popular among the Oscar nominees.
"Celebrities always look flawless, but on Oscar night they truly look their best. Whether they just need a little volume boost or a surgical lift, there are a variety of treatments I can perform to help them achieve their desired look," said Dr. Azizzadeh.
According to Dr. Azizzadeh, celebrities who plan ahead may opt for surgical procedures like a neck lift or mini facelift to take years off of their appearance. These surgical procedures are great for actresses and actors who are starting to see the signs of aging – sagging and droopy on their face and neck.
The neck is often one of the first areas to give away a person's age because the skin in this area becomes loose and can accumulate excess fat deposits. A neck lift will tighten the neck muscles, remove excess fat deposits, and smooth the skin, resulting in a more youthful neckline.
For those celebrities who need extra help, a mini facelift rejuvenates the lower third of the face, including the jowls and neck. Dr. Azizzadeh tailors mini facelifts to meet the needs of each patient, focusing primarily on their individual trouble spots.
Younger celebrities who do not need surgical help but still want to rejuvenate their appearance for the Oscars opt for injectable treatments like a liquid facelift or liquid brow lift.
By combining several injectables, such as Sculptra, Botox and Restylane, Dr. Azizzadeh is able to add volume and lift his famous patients' faces without the hassle and downtime associated with a surgical facelift. This procedure is a great option for celebrities with minimal signs of aging, but who are starting to lose volume in their face and seeing an increase in fine lines and wrinkles.
Additionally, liquid brow lifts eliminate the need for surgical brow rejuvenation. Using a blunt tip cannula to precisely place fillers, Dr. Azizzadeh injects Sculptra in the temples and Restylane around the brows, resulting in a more youthful appearance.
"Regardless of the celebrity's age, the goal of cosmetic treatments is always the same – achieving natural looking results. On a night as highly publicized as the Oscars, it is vital my celebrity clients merely look refreshed, and not like they have had a lot of work done," said Dr. Azizzadeh.
Finally, to complete the red carpet look, celebrities come in for a chemical peel a week before the Academy Awards so their skin glows for the big night.
If you are interested in any of these cosmetic procedures set up a consultation with facial plastic surgeon to the stars, Dr. Babak Azizzadeh. Call 310.657.2203 today to schedule your appointment.
Dr. Babak Azizzadeh, the Chairman and Director of the CENTER for Advanced Facial Plastic Surgery in Los Angeles, is a Harvard-trained facial plastic surgeon, specializing in cosmetic and reconstructive plastic surgery of the face, eyes and nose. He is double board-certified by the American Board of Facial Plastic and Reconstructive Surgery as well as the American Board of Otolaryngology-Head & Neck Surgery. His expertise in cosmetic and reconstructive plastic surgery has made him one if the most sought-after surgeons in the country.
In addition, Dr. Azizzadeh is also highly skilled in non-surgical facial rejuvenation treatments, including lasers, Ulthera, injectables, fat grafting, chemical peels and liquid facelifts. He has written 5 medical textbooks, lectured around the world and been featured in national media outlets including The Oprah Winfrey Show, The Doctors, The New York Times and Discovery Health for his extensive knowledge in facial plastic surgery.
Located in the heart of Beverly Hills, the CENTER provides our patients with the most comfortable and technologically advanced facilities in the field of medicine. For more information about the CENTER for Advanced Facial Plastic Surgery visit http://www.facialplastics.info.
# # #