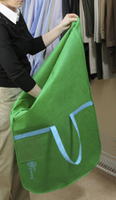 I thought if people were willing to bring reusable shopping bags to grocery stores, then why not the dry cleaners
Chicago, IL (PRWEB) January 29, 2009
A splash of green will adorn the red carpet at this year's Academy Awards with the announcement that a reusable dry cleaning garment bag from Chicago-based Dry Greening™ (http://www.drygreening.com) will debut as the official "swag bag" for the 10th Annual Billboard Magazine/Children Uniting Nations Oscar After-Party at the Beverly Hilton Hotel in Los Angeles on Feb. 22.
It marks the first time ever that a dry cleaning accessory will be featured in the gifting lounge at one of the premier after parties for the Academy Awards.
Launched in December 2008, by Chicagoan Ann Foley, Dry Greening™ offers a reusable dry cleaning bag that is both a tote for dirty clothing being brought to the cleaners and a hanging garment bag for clean clothes being picked up from the cleaners. Dry Greening's™ water-repellant non-woven design is made from 100 percent recycled content.
"I thought if people were willing to bring reusable shopping bags to grocery stores, then why not the dry cleaners," said Foley, president of Dry Greening™ and creator of the bag.
According to Foley, the Dry Greening™ bag is a win-win for both dry cleaners and their customers.
"Because of its unique tote design, the Dry Greening™ bag is much more comfortable and user friendly than a draw-string laundry bag," said Foley. "Of course what consumers are most excited about is that the bag helps them lead environmentally-responsible lives. The Dry Greening™ bag is also 100 percent recyclable."
The elimination of plastic dry cleaner bags is also a benefit to dry cleaners. "At eight to ten cents a bag, dry cleaners are spending a fortune on non bio-degradable plastic bags," said Foley. "So Dry Greening™ really gives them a convenient and cost-effective solution to the millions of single-use plastic bags being used around the world. They can also sell the bags to their customers.
"Even more important is the fact that Dry Greening™ offers dry cleaners an opportunity to help the environment. What's not to like about providing customers with clean clothes and a clean planet at the same time," she said.
Regarding the bag's inclusion at this year's Billboard Magazine/Children Uniting Nations Oscar After-Party Gifting Lounge, Foley said the minute the Gifting Lounge sponsors saw the Dry Greening™ bag, they knew it would be a perfect fit for this year's party.
"A number of celebrities are very passionate about the environment, so the sponsors knew this bag would be a big hit with them," said Foley. "And while I really am looking forward to attending the post Oscar party and meeting Academy Award nominees and winners, I am much more excited about the awareness that Hollywood can bring to the cause of greener dry cleaning."
Foley not only will be giving the Dry Greening™ bag to celebrities at the Billboard Gifting Lounge on Oscar night, but her bag will actually be used as the "swag bag" for celebrities to store all the other items they choose from the Gifting Lounge.
Dry Greening™ (http://www.drygreening.com) is committed to serving the dry cleaning industry and consumers in a responsible, environmentally-friendly manner. Currently, the U.S. uses approximately 100 billion plastic bags a year. It takes up to 1,000 years for plastic bags to degrade. The company's mission is to eliminate the need for unnecessary plastic waste from dry cleaners.
###