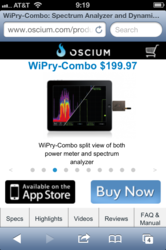 ready to deliver a first-class mobile experience
Oklahoma City, OK (PRWEB) January 22, 2013
Surfing the internet on a phone can be difficult if the websites are not optimized for a mobile device. "When a customer visits a website from a mobile device and it's not optimized for mobile, it's like ignoring a potential customer. And no one likes to be ignored," says Daniel Lineberger, Web Developer at Oscium. Daniel has headed the mobile web initiative at Oscium and is largely to credit for the upgrade. Bryan Lee, President at Oscium was pleased to see the upgrade, "Customers are more and more willing to surf on a phone. And now Oscium is ready to deliver a first-class mobile experience."
Adding a mobile website is a logical step for Oscium. Oscium sells an oscilloscope, spectrum analyzer and a logic analyzer all of which require an iPhone, iPod or iPad to work. Why force a visitor to purchase from a PC or a Mac? Buying patterns are shifting to mobile and Oscium intends to serve those customers. Who knows, maybe in the future the bulk of online e-commerce will be done on mobile devices instead of a PC or a Mac? Regardless, Oscium will be better able to serve the customer with an optimized mobile website.
About Oscium
Oscium delivers personal instrumentation that leverages the easy-to-use interface of the iPad, iPhone and iPod. As an app-cessory maker, Oscium designs the both an accessory and an app for each tool. Using touchscreen-based technology, Oscium is making cutting edge test equipment more intuitive and easy to use.
The Future of Test Equipment is Here.
Oscium, the Oscium logo, iMSO, WiPry, and LogiScope are registered trademarks of Dechnia, LLC. All other trademarks are property of their owners.