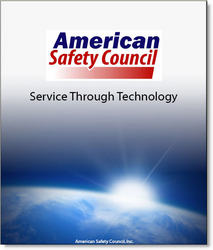 Orlando, FL (PRWEB) May 19, 2010
The American Safety Council is proud to announce an alliance with the Texas Engineering Extension Service (TEEX), a member of The Texas A&M University System that services the public and private sectors with more than 6,000 annual classes.
A key objective of the alliance, approved by the Occupational Safety and Health Administration (OSHA) Training Institute, is for ASC to assist TEEX in the distribution of OSHA 510 and 511 online standards courses. The OSHA 510 – Standards for the Construction Industry and OSHA 511 – Standards for General Industry online courses that are the core objective of this engagement are the only 500 series online courses currently accepted by OSHA. Graduates of the standards courses are able to effectively identify and apply OSHA standards in the workplace, while also addressing prerequisites for attending OSHA 500 and 501 Train-the-Trainer courses to become OSHA authorized trainers.
In addition to the OSHA 510 and 511 online courses, TEEX is also implementing American Safety Council's complete catalog of OSHA certificate online courses. Graduates of the OSHA certificate online courses receive an OSHA Training Institute Education Center completion certificate applicable to the selected topic of study. TEEX delivery of the OSHA online courses will be supported by the American Safety Council's Distance Education Platform which processes in excess of 500,000 online course graduates annually under the auspices of approvals from state and federal governmental agencies including OSHA and the Texas Education Agency.
"TEEX's Infrastructure Training and Safety Institute, or ITSI, is proud to become allied with the American Safety Council. Their varied online OSHA course catalog will enable us to increase the scope of our course offerings allowing for a true international distribution of TEEX training programs to U.S. employers and employees working abroad," said ITSI Executive Director Dan Gray.
"ASC has striven to expand the scope of training programs with a number of OSHA Training Institute Education Centers. Our ability to ally with TEEX dramatically increases the scope of our online course offerings, providing a more efficient, timely and cost-effective manner to address workplace safety," stated Bob Proechel, president of the American Safety Council.
"ASC's effective implementation of proprietary identity and participation validation techniques has allowed for approvals of complex classroom curricula, such as the OSHA standards courses, in a manner that addresses all outcome measures and performance requirements of regulatory agencies," stated Tom Page, CEO of the American Safety Council.
About American Safety Council:
Based in Orlando, Florida the American Safety Council offers alternative delivery method courses to over 500,000 individual users annually. ASC "Firsts" include the first approval of online driver license exam administration, the first approved use of voice and keystroke biometrics in a driver improvement program, and the first approval of online OSHA 510 and 511 standards courses in 2008. ASC and its affiliated organizations offer online workplace and traffic safety training, governmental services and professional continuing education programs, in association with state and federal regulatory agencies and court systems. For more information, visit http://www.americansafetycouncil.com.
About TEEX:
TEEX is an internationally recognized leader in the delivery of emergency response and workforce training, exercises and technical assistance. A member of The Texas A&M University System, TEEX provides hands-on and customized training solutions that impact safety, homeland security and the occupational and economic development of the state and nation. Home to the OSHA Training Institute Southwest Education Center, TEEX serves nearly 200,000 people each year from all 50 states, the District of Columbia, five U.S. territories and 62 countries through training and technical assistance. To visit the TEEX OSHA website, go to http://www.TEEXoshatraining.com.
###