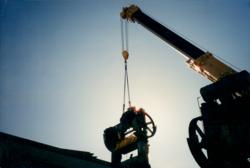 Our goal is to help businesses maintain the safest environments with the most cost-effective and comprehensive safety training.
Phoenix, AZ (PRWEB) April 12, 2012
CertifyMe.net, an online equipment training website, is providing American businesses with a free Small Business Guide to OSHA forklift safety regulations.
"Each day, approximately 11 new regulations are passed by the Federal government," says Tom Wilkerson, founder of CertifyMe.net. "Business owners and managers are understandably confused by this ever-changing set of rules. They want to focus on their core business, yet fully respect the need to keep a safe workplace and comply with OSHA regulations. This guide is a step towards educating businesses and we're offering it free to not just our customers, but anyone who wants access to the information."
This company, which focuses on training equipment operators to be the safest in their industries, monitors all changes is federal regulations and creates online training programs to fully educate business owners, trainers and heavy equipment operators. CertifyMe.net pays close attention to OSHA violations and trends in incidents, assisting businesses to avoid them. The CertifyMe.net products allow businesses to create a trainer within the business with its forklift "Train the Trainer" program. Businesses can obtain trainer certification online, saving both time and money.
"Once people review this guide, they can turn to our programs for educating employees on proper safety with forklifts. Our training programs make compliance simple for businesses and their employees," says Wilkerson.
CertifyMe.net provides veteran forklift operators all the steps needed to train new forklift operators on the job and meets all the OSHA standards for safety compliance. The program enables employers to create on-site training of forklift operators, saving them from expensive off-site programs that cost the business lost work, overtime hours and thousands of dollars.
"OSHA forklift certification is a major part of maintaining a quality, safe workplace, " says Wilkerson. " Our goal is to help businesses maintain the safest environments with the most cost-effective and comprehensive safety training. Companies aren't sure how to get certified. Many businesses believe that government regulations require them to purchase expensive, second-party training programs for their workforce. This can be prohibitively expensive and very inefficient," says Wilkerson. "We offer online OSHA forklift certification and training program tools to seasoned forklift operators that 'trains the trainer' how to instruct new operators. The package includes everything needed, including forklift certification tests and certification wallet cards showing compliance with OSHA standards. In many cases, this creates an even safer workplace environment because the trainers are actually well acquainted with the specific equipment and unique workplace in which the operators will be functioning." As part of the employee training kit, CertifyMe.net offers free 3-year re-certification opportunities, saving even more expense for businesses that use heavy equipment.
The program, which is available at http://www.CertifyMe.net, costs as low as $49.95 per trained employee. The robust program is self-paced and offers opportunity to train employees whenever and wherever it is most effective for the employer and staff.
The program typically will be utilized at the specific workplace, allowing trainers to highlight unique safety hazards and conditions of the business.
When the forklift certification test is completed, the program provides all required proof of safety training that OSHA requires, including certificates and compliance cards for employees.
The forklift-training program is available in a variety of formats. It can be downloaded from the Internet, or a training kit can be sent by mail.
CertifyMe.net was created in 1999 as a provider of workplace training programs. Initiated by professional rigger Tom Wilkerson, the company's goal is to provide simplified, efficient and cost-effective training programs for businesses. CertifyMe.net programs are designed to offer comprehensive training by experienced, seasoned operators in the existing workplace, thereby creating a safer environment while avoiding unnecessary off-site training expenses and overtime fees. Since its inception, thousands of companies throughout the nation have utilized CertifyMe.net programs, including Fortune 500 companies and government agencies. For more information about the fork lift & aerial lift training program, visit CertifyMe.net.