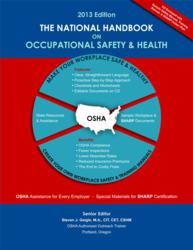 "The most complete and straight-forward introduction to OSHA...including materials and documents on CD to create a customized workplace and training manual and a SHARP Action Plan." — David Wacker, Director, Health Division, Maine Department of Labor
Damariscotta, Main (PRWEB) January 09, 2013
Compliance Publications, Inc., a national publisher of workplace health and safety manuals, is pleased to announce the publication of The National Handbook on Occupational Safety & Health, 2013 Edition. The Handbook provides detailed training guidelines and step-by-step procedures to help employers understand and comply with OSHA workplace safety standards and regulations. State Editions of the Handbook with additional information about specific state programs and employer assistance are planned for release in the coming weeks.
"I am pleased to introduce this new and comprehensive volume, The National Handbook on Occupational Safety and Health," says publisher Daniel Goldenson. "It brings together in one place the key information that employers need in order to operate their workplaces safely and in compliance with the Occupational Safety and Health Administration (OSHA) regulations and standards." The manual is available through OSHAHandbooks.com, for $129.95.
Every workplace in the United States must comply with OSHA occupational safety and health standards to assure employee protection from workplace hazards — or face the possibility of fines and legal actions. Yet many employers, especially smaller organizations, do not have formal safety programs or staff dedicated to develop and run them. They often assume formal safety programs are too expensive and time-consuming to implement.
Designed especially for small business — manufacturers, packagers, retailers, labs, medical offices, contractors, and more — the 500-page National Handbook on Occupational Safety and Health is a comprehensive and practica step-by-step guide to the development and implementation of workplace safety programs. The content was complied from reliable government and OSHA sources, and is clearly organized, outlined, and explained. A CD of editable document templates is included, for employers to adapt and create their own safety manuals and employee training materials.
According to a news release from the U.S. Department of Labor included at the beginning of the Handbook, 4.6 million US workers are seriously injured on the job each year, tens of thousands contract serious workplace diseases and medical conditions, and some of these workers die on the job. Federal penalties can start at $7,000 for a single incident and rise substantially if hazards are not corrected.
Typical hazardous workplace conditions include unsafe equipment, lack of protective clothing, unsafe scaffolding, inadequate ventilation, and lack of respiratory protection for those working around fumes or airborne chemicals. But hazards can be even more basic, such as insufficient safety exits, slippery or obstructed walkways, lack of fire extinguishers, absence of warning signs, and failure to use safety helmets, masks, goggles, or gloves.
Making sense of OSHA regulations can be challenging, and it is often difficult to know where to begin. With The National Handbook on Occupational Safety & Health, employers can quickly understand what they need to know and what they need to do, and begin to access invaluable resources, programs, training and consulting services to build their workplace safety program.
"Safety really has no limitations — it applies to every setting where individuals spend part or all of their day as workers, customers, suppliers, and contractors," says Goldenson. "Our Handbook offers a practical, plain English guide to help employers establish safe and healthy workplaces and avoid costly fines while improving workplace morale and the bottom line."
Company Information
Compliance Publications, Inc. is a publisher of occupational safety and health manuals based in Damariscotta, Maine. Daniel R. Goldenson, President, is a graduate of Princeton University, with a degree in economics and public policy from the Woodrow Wilson School of Public & International Affairs. He has developed more than 200 specialized guides and directories in the fields of education, medicine, commercial real estate, business, and finance.