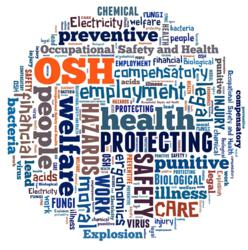 "The OSH add-on solution for Bigfoot CMMS empowers our facilities to implement and monitor best-practice safety programs."

-- Michael Godoy, Vice President of Operations, SMG World
Center Harbor, NH (PRWEB) May 15, 2013
Smartware Group, Inc., provider of cloud-based Bigfoot CMMS (Computerized Maintenance Management Software), introduced Bigfoot OSH (Occupational Safety and Health) as an add-on solution to help maintenance organizations ensure worker health and safety, pass regulatory inspections and avoid fines. With the addition of Bigfoot OSH, maintenance and safety data are now centralized in one system.
"Setting up a preventive maintenance schedule for routine safety checks should be part of a high-quality CMMS product," said Paul Lachance, President and CTO of Smartware Group. "But customer demand prompted us to build an integrated solution that automates and tracks the whole spectrum of safety tasks, programs and procedures, and helps prevent safety hazards. Bigfoot OSH serves as our customers' internal inspector."
"The OSH add-on solution for Bigfoot CMMS empowers our facilities to implement and monitor best-practice safety programs: schedule, monitor and record audits and inspections, store employee trainings and certifications, and track OSHA-recordable incidents," said Michael Godoy, vice president of operations, SMG World. "Integrating OSH with Bigfoot CMMS is a real bonus – especially with JSAs and MSDS sheets. We're able to tie this critical safety information to our corrective and preventive maintenance work orders."
Bigfoot OSH, one of the first occupational hazard prevention programs built into a CMMS, maintains safety information, including procedures, safety notes, emergency notes, and more for all assets and equipment. It provides a complete set of safety incident and audit features that are fully integrated with Bigfoot CMMS work orders, PMs, and assets and equipment. Work orders can be linked to safety checks, including lockout/tagout, fire alarms, confined space and other procedures requiring supervisor authorization.
From the Bigfoot CMMS interface, users can easily create, track, review, record incidents and monitor facility safety programs, including drills, evacuations, Job Safety Analysis (JSA), historical safety meeting notes, and Material Safety Data Sheets (MSDSs). In the event of a regulatory inspection, Bigfoot OSH equips maintenance and safety managers with proof of preventive maintenance history, in report form, sorted by asset, repair technician, safety standard, and other fields. In addition to tracking equipment safety, Bigfoot OSH users can document and archive worker safety measures, including incidents and accidents linked to employees, employee trainings and certification.
To learn more about Bigfoot OSH and safety compliance, attend a complimentary webinar hosted by Smartware Group entitled, "Safety First: Keeping Occupational Safety & Health a Priority." Register at http://www.bigfootcmms.com today.
About Smartware Group, Inc.
Smartware Group, Inc., headquartered in Center Harbor, N.H., produces Bigfoot CMMS for a variety of business environments, from data centers to manufacturing plant floors to convention centers and stadiums.
Since 2002, Bigfoot CMMS has helped more than 1,500 customers worldwide improve facility and equipment maintenance operations with advanced capabilities that include preventive maintenance (PMs) and predictive maintenance, work order scheduling, maintenance requests, asset life cycle management, parts replacement inventory, and built-in reporting. Bigfoot CMMS's native functionality paired with its intuitive design allows maintenance professionals to implement the solution and get results quickly, often in a matter of weeks. To learn more about Bigfoot CMMS, visit http://www.bigfootcmms.com.