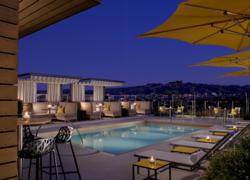 "This joint venture underscores our expertise and passion to develop boutique properties. We are excited about future hospitality concepts, especially in Southern California and with an eye toward environmental sustainability."
Los Angeles, CA (PRWEB) December 19, 2012
OSM Investment Company, a Los Angeles-based developer, owner and investor announced it has entered into a joint partnership with Kimpton Hotels & Restaurants in the one-year-old Hotel Wilshire, a LEED-certified boutique hotel in the Miracle Mile section of Los Angeles located at 6317 Wilshire Blvd. Prior to selling a majority stake in The Hotel Wilshire to Kimpton Hotels & Restaurants, OSM Investment Company developed The Hotel Wilshire in 2011 having converted the former medical office building into a sleek, contemporary hotel in the midst of Los Angeles' cultural center, just steps from the Los Angeles County Museum of Art, La Brea Tar Pits, Craft & Folk Art Museum, Peterson Automotive Museum, and art galleries.
Michael Orwitz, president of OSM Investment Company, states, "This joint venture with Kimpton Hotels & Restaurants underscores our expertise and passion to develop boutique properties. We are excited about future hospitality concepts, especially in Southern California and with an eye toward environmental sustainability."
OSM and/or its partners have been investing in hotels since 2004, including five boutique properties in California. The Hotel Wilshire is the second hotel OSM Investment Company has developed, initially investing, redeveloping and co-owning the Elan Hotel in Los Angeles, another boutique property.
Kimpton Hotels & Restaurants will assume management of The Hotel Wilshire from Greystone Hotels. Kimpton's The Hotel Wilshire is minutes from Beverly Hills, West Hollywood, Hollywood and Century City, and within easy access to exciting Los Angeles hotspots, entertainment venues, restaurants, fashion and shopping, and LA's vibrant cultural scene. The hotel is a modern boutique hotel where luxury accommodations and attentive service are blended into an eco-friendly environment.
The Hotel Wilshire features 74 Guestrooms including 18 Suites and a rooftop Penthouse Suite. In addition to in-room dining, guests can enjoy a rooftop experience by the pool at the hotel's restaurant owned and operated by celebrity Chef Eric Greenspan, The Roof on Wilshire, with its vibrant American cuisine and panoramic views of the Hollywood Hills.
Spence Mitchum, executive vice president, says, "Our growth strategy is to find value where it has been overlooked in destination submarkets where our unique approach to satisfying demand for boutique hotel and multifamily properties can be leveraged to achieve above-market returns. With the strengthening economy, increased hotel demand and rising room rates in Los Angeles, the future is even brighter for The Hotel Wilshire under the trusted management of Kimpton Hotels & Restaurants."
Justin Khorvash, vice president acquisitions, also states, "Based on our market research, we created an urban chic concept that was right for the area, the consumer and the needs of the neighborhood. We are excited that The Hotel Wilshire has been so well received and that the property will reach new heights within Kimpton Hotels & Restaurants portfolio of hotels."
Eastdil Secured represented OSM Investment Company and Kimpton Hotels & Restaurants.
ABOUT OSM INVESTMENT COMPANY
OSM Investment Company is a Los Angeles-based real estate developer, investor and owner. Founded in 1997 by President Michael Orwitz with an initial focus on multi-family residential real estate, the company has grown into a diversified real estate firm with a deep team of professionals, including Executive Vice President Spence Mitchum and Vice President Acquisitions Justin Khorvash. The company has grown its portfolio strategically, including developments and ownership in commercial properties and hospitality projects in California, Nevada and Tennessee.
OSM Investment Company and its affiliate management company own and manage 26 properties consisting of 24 apartment complexes with nearly 2,500 units and commercial properties as well as joint venture investments in self-storage facilities and boutique hotels. For more information visit http://www.osminvestment.com.