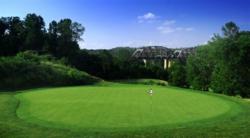 Wood brings strong leadership and creative thinking to the leadership team at The Osprey's at Belmont Bay
Woodbridge, Virginia (PRWEB) November 15, 2012
The Osprey's at Belmont Bay announces its new General Manager, Hunter A. Wood, a Class "A" PGA Professional and former PGA Head Professional at Regency at Dominion Valley Golf Club in Haymarket, VA. Wood's dedication to customer service, golf instruction, and overall quality of Club operations has made him a perfect match for The Osprey's.
Through skill, perseverance, and dedication to the advancement of the game of golf, Wood has quickly advanced over the years from Operations Assistant to Assistant Professional to Head Professional, and he will now put his expansive experience to work as General Manager at The Osprey's, honoring and enhancing its legacy of quality and tradition.
"Besides seeing a Club as great as The Osprey's at Belmont Bay prosper and flourish, what's truly rewarding at the end of the day is to know that my enjoyment in teaching and promoting the game of golf has reached our members so that they in turn can enjoy this great sport as much as I do," says Wood.
With his educational background in marketing via Gannon University in Erie, Pennsylvania and his Class "A" PGA Professional rating, Wood has made a strong name for himself in the industry; his other achievements include a certification in Golf Instruction from the Jack Nicklaus Academy of Golf and being selected as PGA Profile of the Month in for the Mid-Atlantic PGA. A singular, special talent of Wood's is his skill for organizing and managing a Club's Golf Shop, from anticipating his members' equipment and supply needs to training Club staff. Wood was a member of a golf operation that was voted into the Top 100 Golf Shops by Golf Shop Operations Magazine.
About The Osprey's at Belmont Bay
The Osprey's at Belmont Bay is located along the Occoquan River in Woodbridge, Virginia. This par 70 public golf course measures 5,577 yards and features the design of Preston Caruthers and Architect Bob Mortensen. In 2009, the Club received full Audubon Certification and has continuously been included in the "Top 100 Must Play Courses of the Mid-Atlantic" by GolfStyles Washington. The Clubhouse features a full service Golf Shop, restaurant and banquet accommodations for up to 160 guests. For tee time reservations please visit ospreysgolf.com or call 703.497.1384.
About Western Golf Properties
As problem solvers and reputation builders, Western Golf Properties has been at the forefront of developing and managing top golf facilities. Their experience working with more than 100 of the country's most elite Clubs provides the Corporate team with great insight into smart business practices and operational efficiencies which result in quality conditioning, exceptional guest service and desired financial goals. For more information, please visit wgolfp.com or call 949.417.3251.
# # #