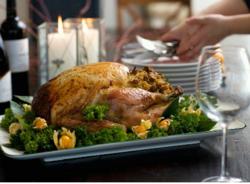 We look forward to serving you and your loved ones with a delicious Thanksgiving Dinner at our beautiful setting at The Osprey's
Woodbridge, VA (PRWEB) November 12, 2012
The Osprey's at Belmont Bay restaurant will be hosting a family-style Thanksgiving dinner amid the fall foliage on Thursday, November 22, 2012 from 11am until 3pm.
Located in the Clubhouse of The Osprey's at Belmont Bay alongside the Occoquan River, diners will enjoy picturesque views of Northern Virginia's forested landscape and surrounding golf course.
This year's event offers a buffet-style menu featuring a main dish of Sage Roasted Turkey with Pan Gravy and Spiced Apple Cider Glazed Virginia Ham as well as a tantalizing array of accompaniments: buttermilk biscuits with whole-grain ginger bread mustard, cranberry sauce, julienned zucchini orange zest, rosemary whipped potatoes, sweet potato casserole with burnt sugar pillows, toasted walnut and cranberry stuffing, caramelized winter vegetable medley, and ratatouille. Finish with pumpkin pie, zucchini bread, and apple crumb cake for dessert.
Enjoy the spirit of Thanksgiving and the company of family and friends without the time-consuming, troublesome task of preparing such a feast at home. Let The Osprey's culinary team do all the work and focus on what's most important: being thankful.
"We're so thankful to have such a beautiful venue and such great chefs and personnel here so that we're able to invite everyone in the community to come and enjoy Thanksgiving with us at The Osprey's," says Andrea Cabrera, Director of Food and Beverage.
The Osprey's Thanksgiving Dinner reservations are available until November 19th for $25.00 (plus tax) per adult, $12.00 (plus tax) per child aged 6-12 years, with children 5 years and younger admitted at no cost. Call (703) 494-1935 to reserve your seats.
About The Osprey's at Belmont Bay
The Osprey's at Belmont Bay is located along the Occoquan River in Woodbridge, Virginia. This par 70 public golf course measures 5,577 yards and features the design of Preston Caruthers and Architect Bob Mortensen. In 2009, the Club received full Audubon Certification and has continuously been included in the "Top 100 Must Play Courses of the Mid-Atlantic" by GolfStyles Washington. The Clubhouse features a full service Golf Shop, restaurant and banquet accommodations for up to 160 guests. For tee time reservations please visit ospreysgolf.com or call 703.497.1384.
About Western Golf Properties
As problem solvers and reputation builders, Western Golf Properties has been at the forefront of developing and managing top golf facilities. Their experience working with more than 100 of the country's most elite Clubs provides the Corporate team with great insight into smart business practices and operational efficiencies which result in quality conditioning, exceptional guest service and desired financial goals. For more information, please visit wgolfp.com or call 949.417.3251.
# # #