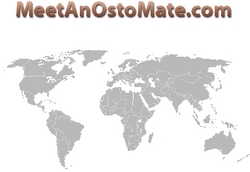 How do I tell others about my Ostomy?
Toronto, Canada (PRWEB) December 9, 2009
MeetAnOstoMate.com, a social network for people with ostomies has started a global campaign for raising awareness about the widely unknown and unspoken about, life-saving surgery called ostomy.
The former president of the United States of America, Ronald Reagan, says in his Ostomy Awareness Proclamation from August 28, 1984 nearly 1.5 million Americans have had ostomy surgery and approximately 125,000 new ostomates join their ranks each year.
Ostomy is a type of surgery which creates an opening in the abdominal area, called a stoma, allowing for drainage of body wastes. The surgery is performed when a person has lost the normal function of digestive or urinary systems due to birth defects, Crohn's Disease, Irritable Bowel Syndrome, Colorectal Cancer, Ulcerative Colitis, injury or trauma. Ostomates are required to wear an ostomy bag over their stoma in which the discharge flows. Apart from that, ostomates look just like anyone else, they have jobs like anyone else, play sports, and participate in most of the ubiquitous activities a normal human being will do.
Julian Markov, the owner of MeetAnOstoMate.com says "Ostomy is sometimes referred to as 'the secret surgery' because the ostomy bag is usually hidden under person's clothing. This very secretive character of the ostomy condition sometimes leads to social discomforts – dating issues, relationship breakdowns, problems at work, or unease among other people. The most common problem ostomates face is: 'How do I tell others about my ostomy?' "
Depending on the type of surgery, ostomates might have a colostomy, ileostomy or urostomy.
"Do you know anyone with an ostomy?" asked Markov. "Chances are you do, but just don't know about it. Next time you hear that someone has an ostomy, don't be grossed out. Just take it as part of life or even better, as a potential life saver for you or someone you care about."
MeetAnOstoMate.com is an online community for people with ostomies. It features forum; profiles and photos; functionality to search for other ostomates based on age, sex and location; personal one-to-one chats; global chat room; internal email system; blogs, ostomy-related videos and events. The website also has a few Enterostomal Therapy (ET) Nurses who volunteer their time and answer questions from members, in the ostomy forum.
###